It is possible that there were some commercial vehicles made before the First World War but no evidence seems to survive in the form of sales brochures or advertising that any were available from new as opposed to conversions on car chassis.. However during the war ambulances built on the 15hp chassis were certainly in use.
The story of Crossley's involvement in this market really starts in 1919 when the government started to release a large number of new and used war surplus 20/25hp chassis. Large numbers of these were bought back by Crossley for refurbishment at the AVRO factory they now owned in Newton Heath, Manchester. Many were fitted with van or truck bodies to be sold at £330 or supplied in chassis form at £295 to third parties for bodies to be fitted. These were advertised through to 1924 the price by then having fallen to the bargain £125.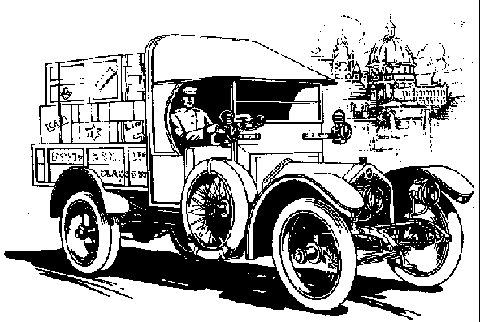 In 1920, 20/25 Royal Flying Corps type tenders were supplied to the Metropolitan Police in London to become the first vehicles to be used by the Flying Squad.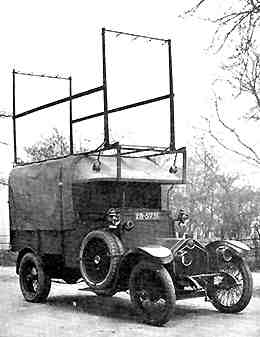 A scheme had existed since 1908 where civilian operators could receive a government subsidy for operating vehicles to military specification on condition that they could be released in a national emergency within 72 hours. To meet the 1923 "War Office Subsidy Specification No 30" for a 30cwt chassis a new design known as 'British Government Tender 1' (BGT1) was produced. The subsidy was, in this case, £40 a year. More often known as the 40-50hp the BGT1 used either the 4.5 litre 25/30 engine or a 5.2 litre bored out version known as the 30/70 and was advertised as capable of 50mph on good roads even though the specification only called for 25 mph. The publicity also stated that in spite of being rated at 30cwt it was well capable of carrying 40cwt. In a chassis only version it was priced at £850 plus £50 for electric lighting and self-starter.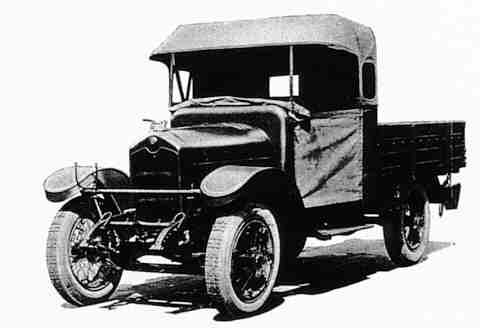 Also in 1923 the Government of India issued a 30cwt lorry specification to a more rugged specification. This resulted in Crossley producing the 'Indian Government Lorry' or IGL. (After further versions of the IGL appeared, the first model became retrospectively the IGL1) This was based on the proposed chassis for the Russian venture and used the 25/30 engine but later the larger 30/70 was also used. The 4 speed gearbox had a bottom gear with an overall ratio of 38:1 which gives some idea of the conditions it was designed to meet. Although designed to run at 30mph solid tyres were specified on some.
Although the Subsidy scheme gave useful payments to operators it also produced vehicles that were very heavy for civilian use so in December 1925 a light 15hp 15/20cwt van was announced featuring the same engine as the 14hp car but with 4 speed gearbox (the car was 3 speed) and worm rear axle. The chassis was similar to the car's but the wheelbase of 10ft 5in was just over 12 inches longer. Four wheel brakes using the Perrot system were standard. The body had a hardwood frame with plywood panels coach painted and varnished. The drivers cab was now totally enclosed. The advertisement describes performance as "speedy". An ambulance body was also produced. Even though they were not built to a military specification the War Department bought several and there was also a more rugged version with an additional low ratio gearbox giving 8 speeds available. A half tracked version using the Kegresse system was also made.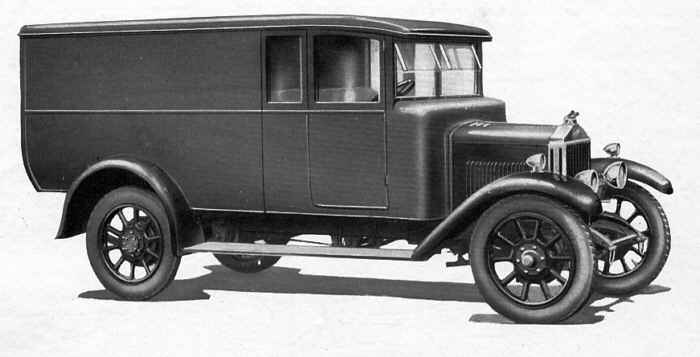 The 20.9 car was also, in 1926, used as a basis for vans and ambulances using the standard six cylinder engine and a lengthened chassis. The ambulance was fitted with a body made of ash clad with aluminium finished internally in either "best white enamel or paneled mahogany by choice." The rear interior was lit by four side windows engraved with a cross and lettering and made from a choice of frosted, plate or Murioneze glass.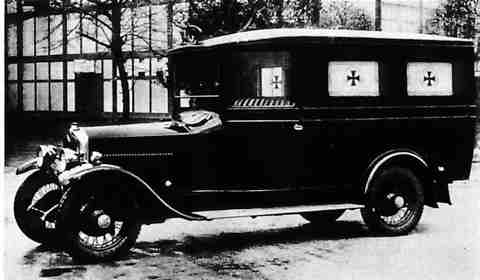 A further government specification, War Department 30C, for a 6 x 4 three ton vehicle was issued in 1925 and to meet this Crossley produced a 3 axle vehicle by lengthening the BGT1 and fitting a two axle driven rear using the War Department patented articulating bogie unit. Even though it was not specified by the Government of India it was called the IGL2 in spite of the name having been used earlier for some versions of the IGL1. The trusty 25/30 engine was fitted. A Kegresse track system was also available fitted in place of the rear wheeled bogie for use on bad ground. Following competitive trials 115 Kegresse IGL2's were supplied to the RAF and Army and some reached civilian users including one for King George V for his Scottish estates.
Although meeting the design specification the IGL2 proved too heavy for some applications so both a new 4 wheel and a new 6 x 4 chassis using the 14hp car engine were brought out in 1927. The 4 wheeler seems to have been called the '15cwt light 14hp' and the six wheeler '20-30cwt light six' but the latter changed to the British General Vehicle 1 or BGV1. In the same year the IGL2 was also upgraded using a modified BGT chassis to become the Series 2 and offered with the 30/70 engine as an option. In 1928 the chassis of both the BGV1 and the IGL2 was modified but only the BGV had a name change to BGV2.
1928 also brought the six wheel IGL3 with forward control and greater load space. The 30/70 engine used in the IGL2 was usually fitted. Normal control versions of the IGL3 followed and then further variants with often minor specification changes up to the IGL8 in 1936. The odd one out was the IGL5 made in 1932 which was a single prototype to test diesel power. To add to the designation confusion all RAF variants were called IGL3. These RAF versions included 50 airfield fire tenders with streamlined bodywork and 5266cc 30/100 engines. In all, over 3000 IGLs were made but only 3 are thought to survive.
Meanwhile in 1929 a new light six with a semi forward control layout appeared at first called the 'light six 30 cwt' with the 20/60 3705cc engine as used in the 19.6 car replacing the 14hp car engined BGV1. The first consignment went to India and were called the 'Standard India Office Model'. These were shortly followed by British military versions called BGV3, 4 or 5 depending on specification. Some 600 were supplied until 1935.
Although examples of most if not all the military vehicles had been made available and sometimes bought by civilian operators they were in robustness essentially military types so in the 1930's a rationalised series of goods chassis specifically for civilian use designated Atlas, Beta and Delta were produced.
The Atlas, it was to have been Alpha but that name was already used for a bus, came first in 1931 and was the largest with a 16 feet 7 1/2 inch wheelbase and capacities from 6 to 12 tons. It was diesel powered at first fitted with the 45/85 8369cc 6 cylinder engine and later by the 48/100 VR6. A 4+2 eight speed gearbox was offered from late 1932. With a forward control chassis it was offered in 2 and 3 axle form. It was withdrawn in 1936.
The Beta launched in November 1933 was shorter with a 12 feet 6 inch wheelbase and again was available with 2 or 3 axles. The 4 cylinder 6080cc VR4 diesel was used with the VR6 as an option from 1936. Again it was forward control with the ex IGL 4 or 4+2 gearboxes on offer.
The Delta also came along in 1933 and was available in a number of formats, either normal or forward control or as an articulated vehicle tractor unit. It initially had the 20/60 3705cc petrol engine but from 1935 for the tractor and 1937 for the lorry the new lightweight VS4 22/48 3620cc diesel was available. From 1936 the 24/70 4155cc 4 cylinder petrol engine was also an option. As with the Atlas and Beta 4 or 8 speed options were available but there does not seem to have been a 3 axle version. The normal control chassis had a wheelbase of 11 feet 6 inches or 14 feet and the forward control 12 feet. The tractor unit was 10 feet between axles. The chassis was also to coach builders but only one seems to have been built as an airport coach for Manchester Corporation.
At £1440 for the Atlas chassis, £1195 for the Beta, £425 for the petrol Delta and £635 for the diesel all of the range was expensive although apparently very well liked by the operators. Sales were few and none are known to survive.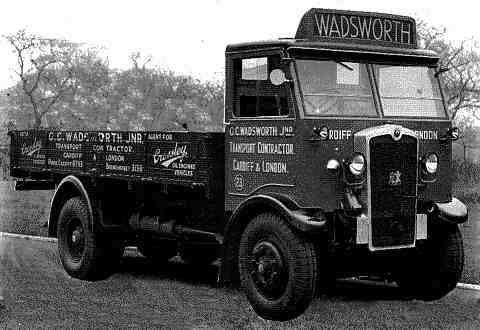 An unusual development in 1938 was a battery powered electric vehicle in the quarter to two ton range. A 15cwt version was completed in 1943 but further development was stopped by the Ministry of Supply.
Work started on a new range of lorries in 1938. A prototype rated at 5 tons with the 24/70 petrol engine was completed and put out on trial. However, with the approach of the Second World War development was abandoned as factory production switched to war work and thousands of FWD and IGL vehicles and chassis were produced mainly for the RAF. These vehicles are covered in the Military pages.
With the end of the war commercial production never restarted. Two prototype chassis were made of 7 tonners, one normal and one forward control, but they were abandoned and used by the factory as tow/delivery trucks for trolley buses. They were last seen in a scrapyard in Bredbury, Stockport in 1970 having come from Errwood Park when it closed in 1958.