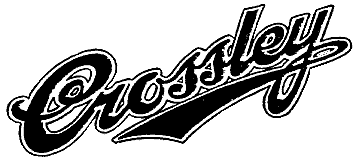 The Crossley Atlas commercial vehicles
>The Atlas range of commercials was introduced in 1931 and remained in production until 1936. Both two axle (six ton) and three axle (eight to twelve ton) types were made.
Six cylinder diesel engines were used, at first the 45/85 then the VR6.
Chassis numbers were in the 950xx range.
The number made is not known and there are no known survivors.
BODY STYLES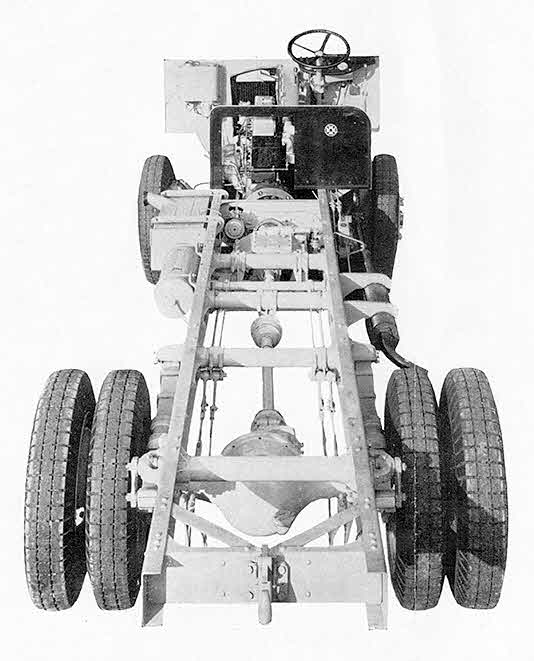 Atlas chassis.
The chassis cost £1440 in 1932.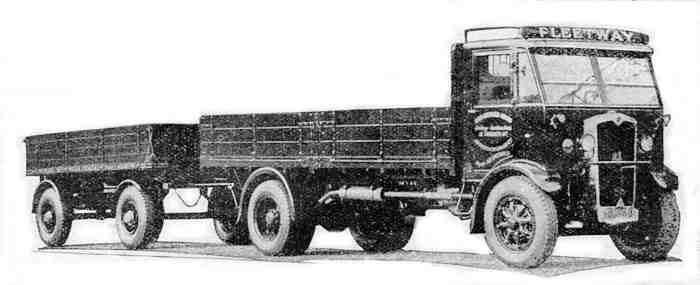 A 2 axle 6 ton Crossley Atlas with Dyson 7-8 ton trailer in the ownership of Hargreaves Bros of Adlington, Chorley, Lancashire.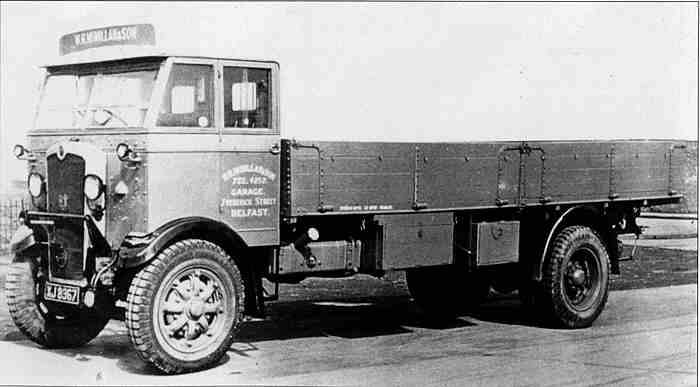 A 1933 Atlas destined for Mcmillans in Belfast photographed at the Crossley factory.
SPECIFICATION
Engine/gearbox/transmission

capacity

8369 cc (45/85)
9120 cc (VR6)
cylinders
6 in two banks of 3
bore
4¼ inches (108 mm) (45/85)
4 7/16 inches (112.7 mm) (VR6)
stroke
6 inches (152.4 mm)
compression ratio


RAC Horse Power
43.4 (45/85)
47.3 (VR6)
valves
overhead
injection


max power
85 bhp at 1800 rpm (45/80)
100 bhp at 1700 rpm (VR6)
fuel consumption (typical)
8.3 mpg (34 litres per 100 kms)
Tank capacity 22 gallons (100litres)
acceleration
0 - 20 mph in 24 seconds
max speed (approx)
27 mph (43.5 kph) governed.
Gears
4 speed separately mounted from engine
3.68:1, 2.57:1, 1.43:1, 1:1
Optional two speed auxiliary gearbox from December 1932.
Clutch
single dry plate
Drive Shaft
divided propeller shaft with three universla joints

Rear axle
double reduction worm drive with worm on top
ratio - 8.25:1 (other ratios optional)
Body/chassis
wheelbase
16 ft 7½ in (5067 mm)
length
25 ft 5 in (7747 mm)
width overall
7 ft 6 in (2286 mm)
track
Front - 6ft 3 in (1905 mm)
Rear - 5 ft 8 in (1720 mm)
weight
5 tons 19 cwt
steering
4½ turns lock to lock
suspension - front
half elliptic springs
suspension -rear
half elliptic springs
brakes
Triple vacuum servo. Handbrake operates on rear wheels through separate mechanism.
wheels/tyres
42 x 9 tyres
Twin wheels at rear