What follows is a listing of all the models of Crossley vehicles that I know of. I won't guarantee that they are all currently available and make no claims that the list is exclusive. The prices are almost certainly out of date. Military modellers seem especially well catered for. If anyone knows of others, please let me know.
---
---
Matchbox "Models of Yesteryear", UK - 1918 Crossley 20/25
Originally issued in 1973 this must be the most commonly found model and is available in an amazing number of variants including some specially made for companies as publicity items.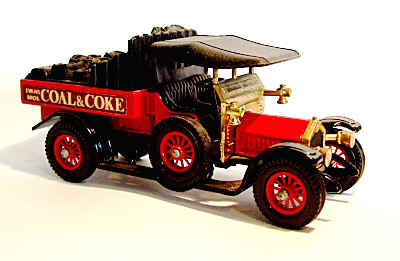 They are no longer available new but are readily found secondhand from 50 pence upwards depending on condition, rarity etc. As usual with the used model market, there is a premium for having a good condition box which pushes the price up to the £5.00 plus mark. The special editions (known as Code 3) go for a premium. There are even some silver and gold plated examples including ones made as desk sets.
The model is to 1:47 scale and is about 4 inches long.
---
---
Corgi Models, Margate, Kent, UK - DD42 bus
Corgi released their ready built and painted DD42 in their Original Omnibus range in 2008 initially in Manchester colours. It has been followed by limited edition versions in Glasgow and Portsmouth liveries. The scale is to 1:76 and so the model is about 4 inches (100mm) long.
The model number is OM41602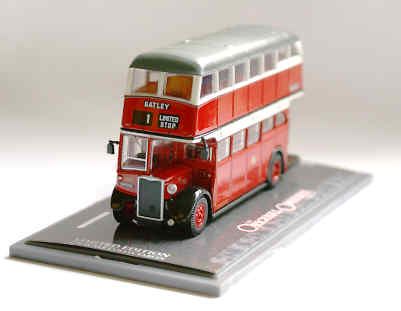 ---
---
ABS Models, Weymouth, Dorset, UK - DD42 bus
This is a white metal kit of a DD42 from the Oldham fleet and is to 1:76 scale making the model about 4 inches (100mm) long. It was originally made by Anbrico. ABS have now reissued the kit in 2007 as part of their Streetscene range at £32.50.
Add on parts are also available to make several variants. The model number is ABR385.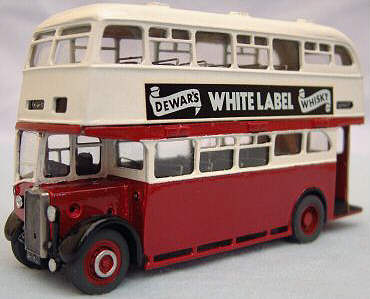 ---
---
TinY, Blackburn, UK - SD42 bus
TinY kits based in Blackburn produced a kit of an all Crossley version of the SD42 single decker in resin. The illustration shows it painted in Chesterfield livery.
The kit reference is TK3 and TinY can be contacted on 07890 983733. The kit costs £30 plus postage but is currently (2011) unavailable.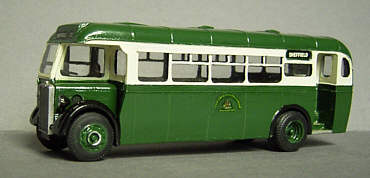 ---
---
HB Modell, Czech Republic - Dutch SD 42/1 bus
Available painted in the 1947 liveries of Amsterdam GVB, NS, NZH, TP, BBA, SW and LTM, this resin model of the SD 42/1 "Long Dutch" is to a scale of 1:87 so is about 5 inches (125 mm) long. The model illustrated looks to be of one from the De Schelde works.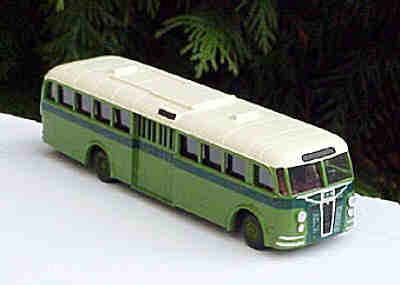 ---
---
Focus Modell Parts, Netherlands - Dutch PT42/1 tractor and bus trailer
This one is a resin cast body kit from the Dutch company Focus Modell Parts. These are now sold by Dutch model shop Brekelmans Modelbouw. After being unavailable for quite some time they are now back on the market but probably quite hard to find. I think it is to 1:87 scale. It's not altogether clear from the description but I think you have to provide your own wheels/axles.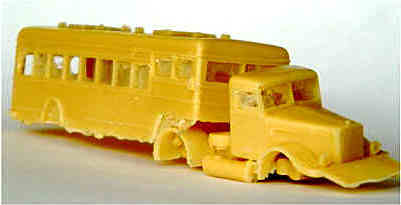 ---
---
VV Models, Czech Republic - Dutch PT42/1 tractor and bus trailer
Available in two different liveries this 1:87 scale model can be bought as a kit or fully assembled.The tractor unit is also available separately.
https://www.vvmodel.cz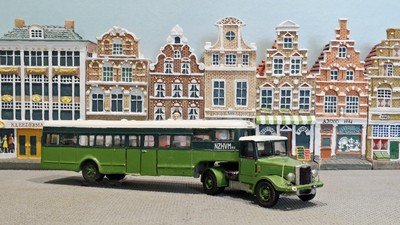 ---
---
Little Bus Company, Halifax, Yorkshire, UK - DD42/8
www.little-bus.com
This is a Resin kit of the DD42/8 with Crossley body as used in Manchester. The scale is 1:76 and the kit cost £32 in 2006.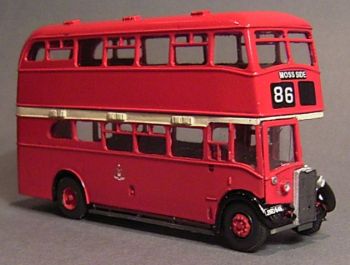 ---
---
Reviresco Models, Washington, USA - RFC/RAF Tender
www.tin-soldier.com/afvkits.htm
This is a 1/76 scale kit to build and paint. It is available in either open or closed versions and costs $10.00.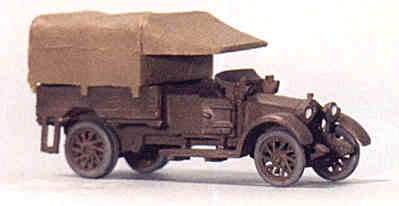 ---
---
Merlin Models, Newcastle, Staffs, UK RFC Tender
This model came out in the early 1990s and I think is no longer made. It came as a white metal kit to 1:72 scale complete with a model nurse and 3 RFC crew members. A comment said "the castings are not to the highest quality and need quite a lot of work but a good model can be made".
---
---
Frontline Models, Gillingham, Kent, UK - Vickers-Crossley Armoured Car
Frontline Wargaming is a small company that specialises in military models. They list two variants of the armoured car that seem to be the same apart from markings and armaments.
The kit is a resin bodied with some metal parts. It is to 1:76 scale. The cost of the kit is £2.85.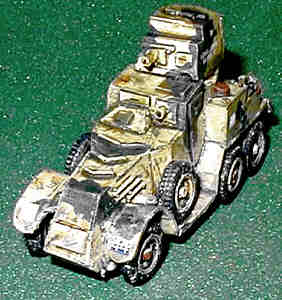 ---
---
SMA, UK - Vickers Crossley Armoured Car
SMA is the manufacturer of a 1/76 scale range of vehicles, figures and accessories which are sold under the name Small Scale Productions. The kits consist of a mix of resin and white metal pieces and most come with instructions. Two kits are listed, SSP120 Vickers Crossley 4x2 armoured car and SSP141 Crossley Chevy Indian Pattern armoured car (illustrated), they both cost £12.60.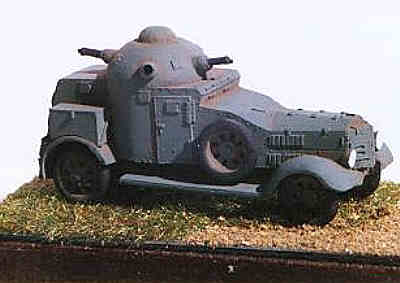 ---
---
CA (Tommy) Atkins Models, Bridlington, Yorkshire, UK - Indian Pattern Armoured Car
Another armoured car but I can't find much out about it except that it is described as "high quality"
It is to 1/76 scale and costs £11.00
---
---
Matador Models, New Milton, Hampshire, UK - Crossley BGV3 30cwt 6 x 4
Matador produce a wide range of military model kits in various scales and seem to have several Crossleys in the pipeline. The first to be available is the BGV3 truck. It is to 1:76 scale and costs £15.50. (The Matador reference number is 76B-09)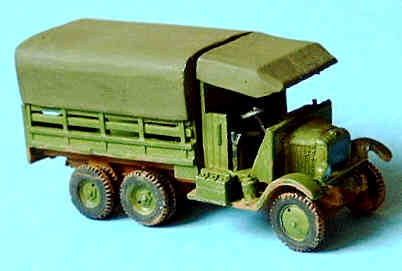 Also in the Matador catalogue but described as "Master under development" are: Crossley Q Type 2 RAF 3 ton Tender 1:76 scale (Reference #AA7605) Crossley Q RAF Tractor Quoted as "For Queen Mary trailer". 1:76 scale. (Reference #AA7606)
---
---
Trux Models, Leeds, UK - Crossley IGL8 3 ton 6 x 4
Amongst their range of 1:76 scale military kits Trux have a series of models, introduced in 1996 and improved in 2001, of the various makers who supplied the War Office with 3 ton 6 x 4 vehicles. A variety of loads are available and for the Crossley IGL8 these are a General Service Lorry (£12.00), a Breakdown Gantry Lorry (£14.00) and a Searchlight Lorry (£14.00).
Production of Trux kits ceased in 2005.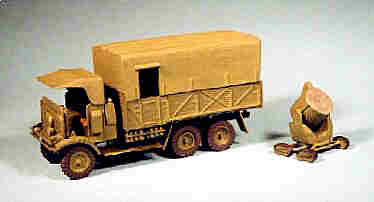 ---
---
Accurate Armour, Glasgow, UK - Crossley 4x4 FWD Fire Crash Tender
A complete 1/48th scale resin model kit designed by David Jane of the Classic British WW2 (& Post War) Crossley FWD 4x4 Foam/C02 Fire Crash Tender (RAF). The model features extensive detail, tools, suspension, and chassis of this standard RAF vehicle for both concrete and grass airfields. This model shown depicts a vehicle in WW2 RAF service (Extensive RAF Fighter, Bomber and Coastal Command decals are also included).
The kit combines fine detail with ease of assembly and come as standard with simple to apply brass detail set, full colour decals, and other building materials required. It is supplied boxed with full colour instructions and is about 120 mm long.
It carries Accurate Armour's code K48004 and costs £46.80.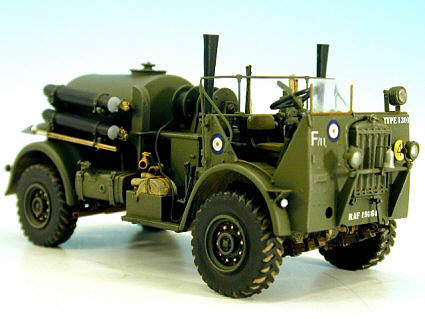 ---
---
CCC Models, France - Crossley-Bugatti Car
CCC is a French maker and produces a wide range of models of what can only be described as rarer vehicles from mainly French manufacturers. The kit is to 1:43 scale so should be about 3 inches (75 mm) long and cost about £50. I think it is now sold out.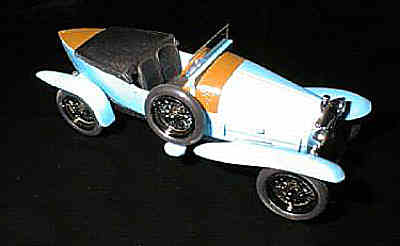 ---
---
Sloppy Jalopy, Nottingham, UK - Crossley 19.6 car
Sloppy Jalopy have a range of 3 variants on the 19.6 car, a tourer, a saloon and a custom kit containing the tourer with variations. The white metal kits are to 1:48 scale making the cars about 3 1/2 inches (90 mm) long. The kits cost £11.00.