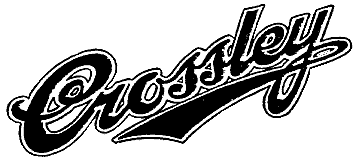 The Crossley 12/14 and 15hp cars
The Crossley 12/14 hp was introduced in 1909. It was renamed the 15hp in 1911 and in 1913 the engine stroke was increased to take the capacity to 2613cc. The "Shelsley" sporting version was also introduced in 1913 and featured the V shaped radiator that was to be used on many types up to the early 1930s. The number made is not known. Before 1919 chassis numbers were not segregated by model type and are in the range up to 2445. The last cars are thought to have been made in 1915.
BODY STYLES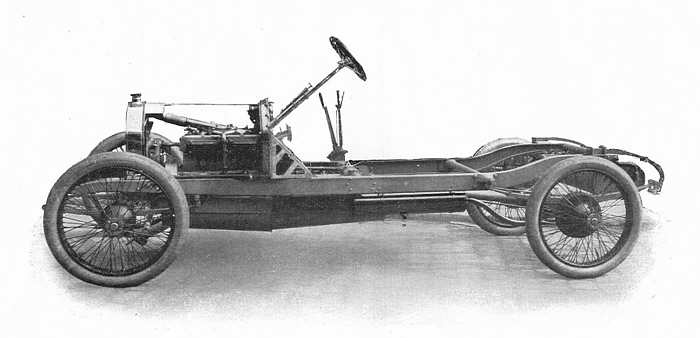 chassis only:
£335 (short) £355 (long) (1912)
£350 (1913)
£375 (Shelsley)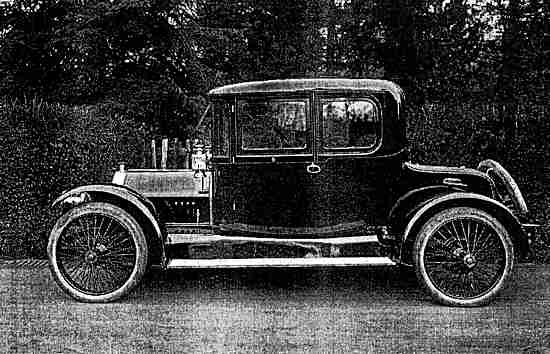 2 door coupé. Coachbuilder unknown.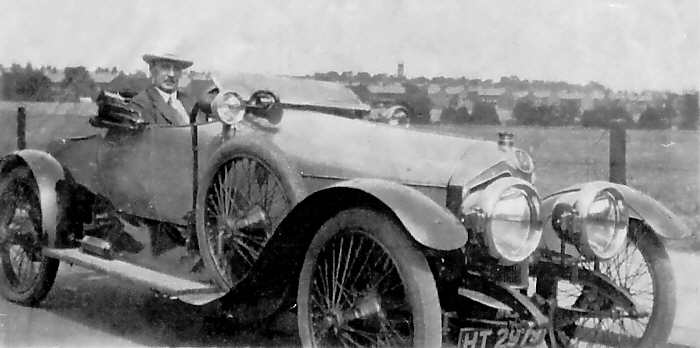 Crossley bodied sporting Shelsley model.
Both two and four seat versions were made. The Shelsley usually had the peaked radiator. Photo - Michael Lawton

£455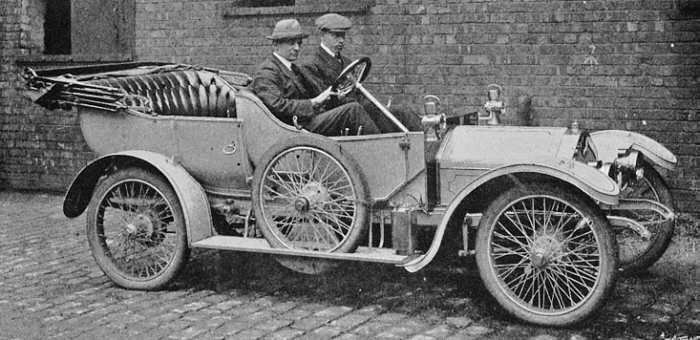 15hp five seat tourer. The photo shows Crossley designers Hubert Woods at the wheel and A. W. Reeves in the passenger seat so presumably it has an in-house body.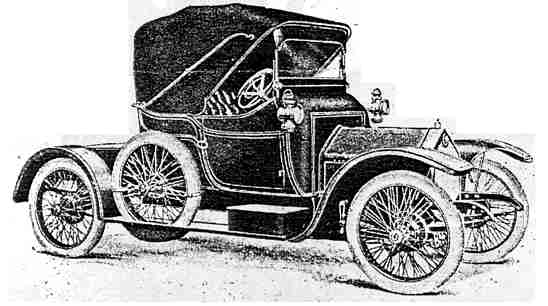 12/14hp coupé of 1910.
Coachbuilder unknown.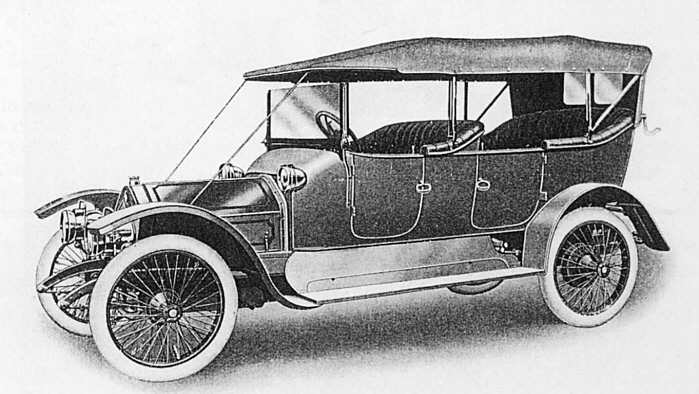 15hp with Mann Egerton Torpedo body
£415 (1912)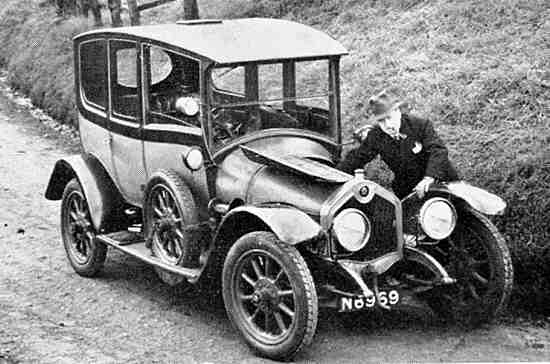 Nicknamed Connie, this two-door saloon successfully took part in the 1933 RSAC Scottish rally and the 1934 RAC rally when although classified as a non-finisher it appears to have reached the finish at Bournemouth. It cost £875 when new but Mr Ernest Hasel had bought it for £5.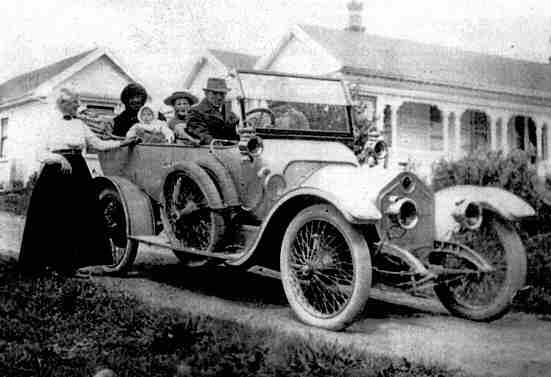 A 15hp with tourer body believed to be in New Zealand. The owner is possibly a Mr Hoare.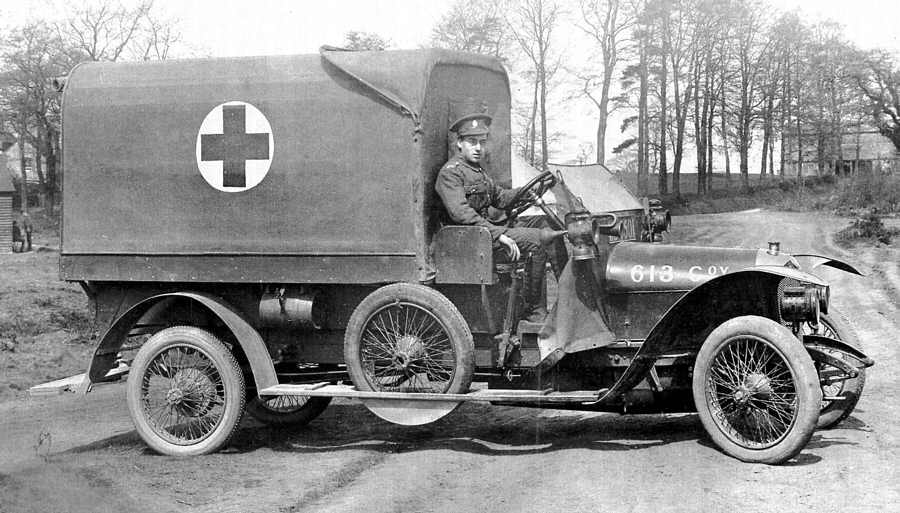 An ambulance built on a 15hp chassis.
Many cars were supplied in chassis only form to independent coach builders. The above are a selection of the body styles produced by Crossley and other coach builders.
The prices quoted are from contemporary advertisements.
SPECIFICATION
Engine/gearbox/transmission
capacity
2388cc (12/14hp)
2613cc (15hp)
cylinders
4 cylinder monobloc. Fixed cylinder head.
bore
3 1/8 inches (80 mm)
stroke
4 3/4 inches(120 mm) (2388cc)
5 1/8 inches(130 mm) (2613cc)
compression ratio

RAC Horse Power
15.6
carburettor
Claudel Hobson or later Smiths 4 jet
valves
side
lubrication
pressure-fed to big end and camshaft
ignition
high tension magneto
max power
17.5 bhp at 1000 rpm, 32 bhp at 2400 rpm
Shelsley 45 bhp.
cooling
Water cooled by thermo-syphon. Fan fitted.
fuel consumption (typical)


max speed (approx)



Gears
Gearbox unit mounted with engine.
Clutch
Leather faced cone
Drive Shaft
Torque tube
Rear axle
Differential - straight cut bevel gears
ratio 4:1 (Shelsley)
Body/chassis
wheelbase
short chassis 9 feet 4 inches (2844 mm)
long chassis 10 feet 6 inches (3200 mm)
length
short chassis 13 feet 3 inches (4040 mm)
long chassis 14 feet 0 inches (4267 mm)
track
4 feet 7 inches (1397 mm)
width overall



weight
14 cwt (without body)
steering
worm and sector
suspension - front
1/2 elliptical springs
suspension -rear
3/4 elliptical springs

brakes
Rear-wheel only with foot operated transmission brake.
Optional on 15hp in 1911 only, 4-wheel brakes, front operated by pedal, rear by lever.
wheels/tyres
815 x 105 on short chassis
820 x 120 on long chassis