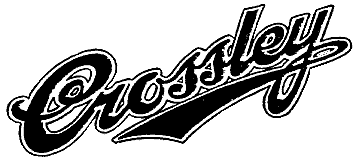 The Crossley "14" and "15/30" cars
This car was called the Crossley 12/14 at launch on the home market but by 1923 the name had changed to the 14. For export it was known more logically as the 15/30 indicating its RAC horsepower rating of 15.6 and its actual engine power of 30 bhp. It is not known why the "14" designation was used.
Approximately 5500 were made making it Crossley's biggest selling civilian model.
Known chassis numbers range from 25086 to 29991 and 70009 to 70506.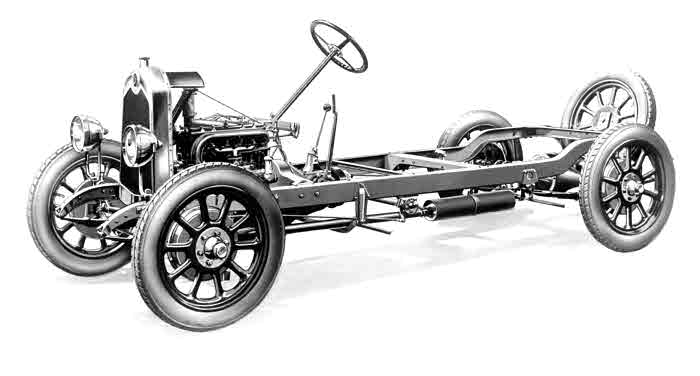 BODY STYLES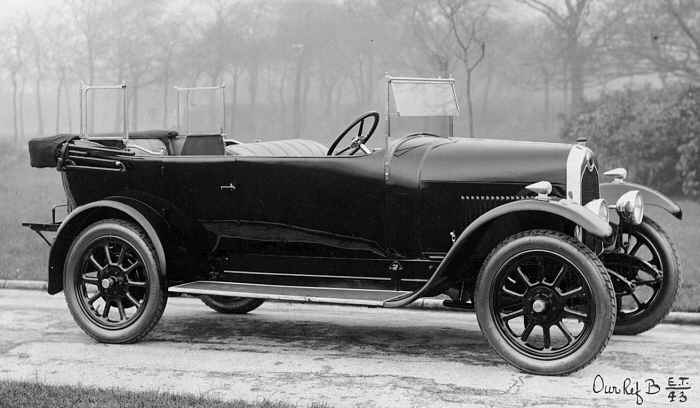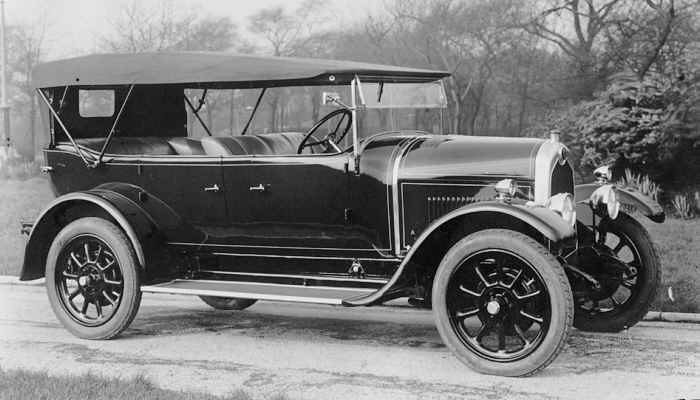 4/5 seat tourer.
The upper illustration shows a two wheel brake model with no driver's door. There would be two doors on the other side. The lights are CAV type.
The rear windscreen, here with the centre section folded down, was supplied with the de Luxe model. The standard model was dropped in 1925.
The lower picture is a four wheel brake type with Rotax lights.

£475 (1922)
£400 Standard version (1923)
£420 De Luxe version (1923)
£395 (1925)
£399 (1926)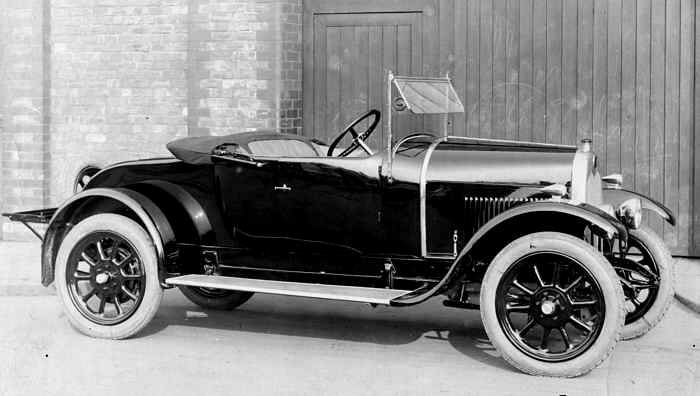 2 seat tourer.
Although the car resembles the drophead coupé, the 2 seat tourer had a more basic specification with fabric side screens and was really a 2 seat version of the four door tourer and was priced the same.

£475 (1922)
£400 Standard version (1923)
£420 De Luxe version (1923)
£395 (1925)
£399 (1926)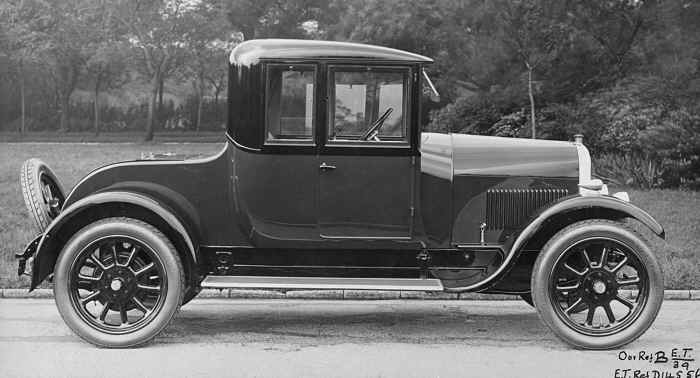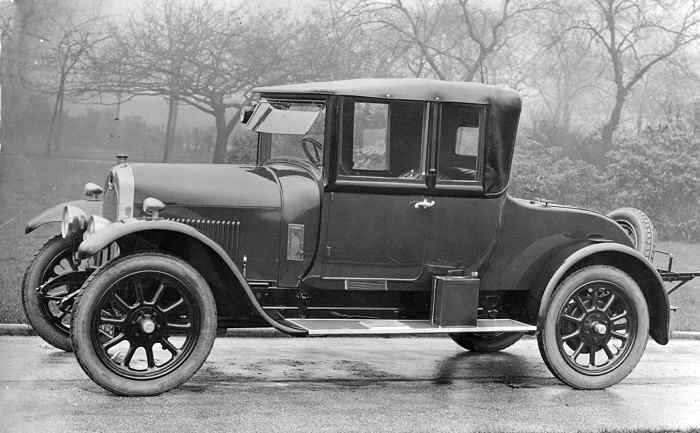 The 2 seat coupé was in theory available in both fixed head and drop head versions. The fixed head does not seem to appear in any of the sales literature so might have been a one-off.

£450 (1924)
£540 (1925)

Specification included a folding dickey seat.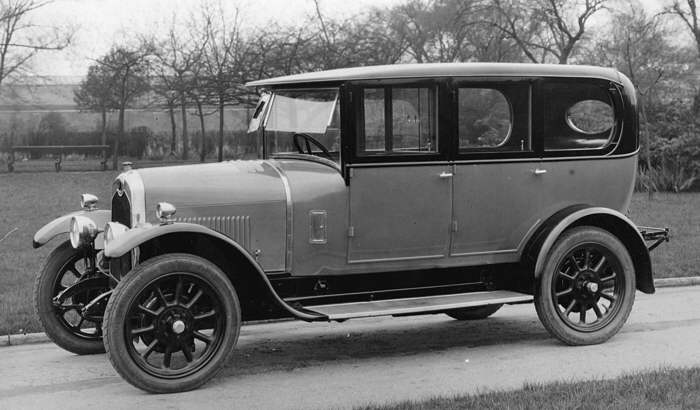 4 door saloon. The design changed over the years with both flat and V-fronted windscreen variants and many different rear window styles.
£495 (1923)
£560 (1924)
£495 (1925)
£560 (V-screen) (1925)
£595 (1926)

Specification included: -
lady's and gentleman's companions
pair of flower vases
skin rug
silk blind to rear window
ash tray with pipe rack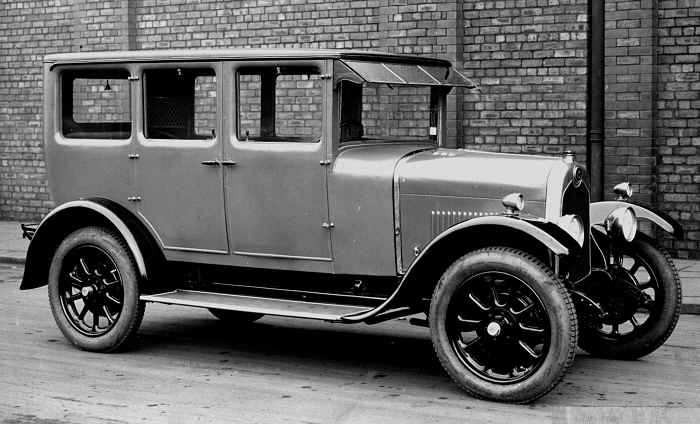 Fabric Saloon (Coach)
£465 (1925)
£455 (1926)

Corded cloth or leather upholstery.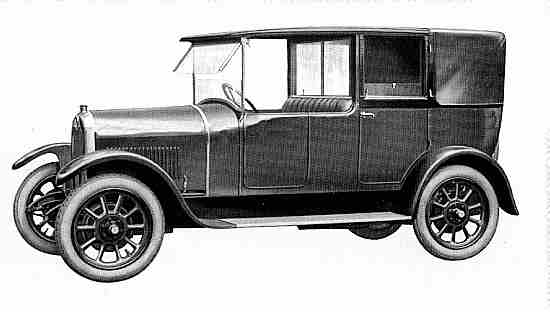 Landaulette
£520 (1923), £580 (1924), £580 (1925)

Specification included -
Two folding auxiliary seats in the rear
Leather driver's seat
Interior upholstered in leather or Bedford cord.
"Falling head" covered with enamelled leather
(This photograph is from the sales brochure for the 14hp range but for some reason does not show any lights fitted to the car)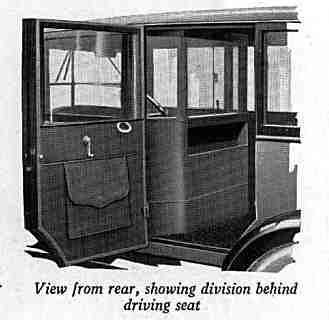 Saloon-Limousine
(externally the same as the saloon)
£520 (1923), £590 (1925)

Specification as for saloon but with a sliding glass division
The above are all Crossley factory bodies. Standard colours were maroon, grey or blue. Upholstery was in leather for the tourer and in leather or Bedford Cord for the closed cars.
Many cars were supplied in chassis form to independent coach builders especially on the export market.
The prices quoted are for the home market and come from contemporary advertisements and price lists. The variation in prices can be caused by differing specifications. Up to 1925 four wheel brakes were an extra £15.
SPECIFICATION
Engine/gearbox/transmission
capacity
2388cc
cylinders
4 (monobloc)
bore
80mm
stroke
120mm
compression ratio
4.67:1
RAC Horse Power
15.6
carburettor
Solex 26MV
valves
side
lubrication -early
dip
lubrication - late
full pressure
ignition
magneto (ML CG4 type or BTH)
max power
31bhp at 2400 rpm
fuel consumption (typical)
28 mpg (10 liters/100 km)
max speed (approx)
55 mph (90 kph)
acceleration
0-50mph (0-80kph) in 43 seconds (tourer)
Gears
3 forward + reverse gears.
At least 3 different ratios were supplied at various times
1:1, 2.197:1, 3.925:1 and 5.235:1 (reverse)
1:1, 1.75:1, 3.125:1 and 5.235:1 (reverse)
1:1, 1.818:1, 3.250:1 and 4.333:1 (reverse)
The gearbox was mounted in unit with the engine.
Clutch
Single dry plate
Drive shaft
open shaft with fabric couplings
Rear axle
spiral bevel
ratios 4.0:1, 4.3:1 and 5.0:1 available
Electrical System
12 Volt. Either Rotax or CAV.
Body/chassis
wheelbase
9 feet 4½ inches (2857 mm)
length
12 feet 11 inches (3937 mm)
track - early
4 feet 6 inches (1372 mm)
track - late
4 feet 8 inches (1422 mm)
width overall
5 feet 4 inches (1626 mm)
weight
21cwt (1.066 tonne) (5 seat tourer body)
steering
Worm and wheel
suspension - front
semi elliptic springs
Gabriel Snubbers fitted from 1925
suspension -rear
semi elliptic springs
Gabriel Snubbers optional from 1924 (standard from 1925)
brakes

front (optional but standard from 1925) rod operated Perrot system.
rear -rod operated
handbrake - transmission
wheels/tyres
30" x 3½" (1922)
765mm x 105mm
or 21" x 4.75"
815mm x 105mm (export models)
The change in specification to the wider track came in 1925 at about chassis number 29100. The car with chassis number 29103 has wide track axles. There was no change to the chassis for the increased track, the extra 2 inches being added to the axles.
The change to full pressure lubrication was in 1924 but is harder to pin point to an engine number and may have been done on export engines first. The late 1924 sales brochure (UK) refers to pressure fed bearings but an export leaflet dated 1/24 still refers to dip lubrication. By 11/24 the reference had changed to full pressure. Engine number 25473 which went to Australia is of the dip type. There were other, later, changes to the engine including the move of the oil filler from side to front and screw, as opposed to shim, tappet adjusters.