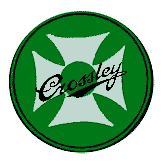 Crossley "18/50" and "20.9" cars
The Crossley 18/50 was manufactured between 1925 and 1927 and had a new 6-cylinder engine, the first time Crossley had deviated from its four cylinder policy. Approximately 300 were made. Chassis numbers range from 40000 to 40300.
The Crossley 20.9, with a bored out engine, superceded the 18/50 with an initially identical specification and range of body styles. It was manufactured between 1927 and 1931 but from 1929 the slightly revised Super Six was advertised alongside it.
Approximately 1200 were made. Chassis numbers continued in the same range as the 18/50 starting from 40301 to 41503.