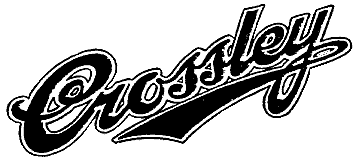 The Crossley 15-20 cwt Commercial vehicles
The 14hp engine was used in a range of commercial and military vehicles introduced in 1925. Originally the wheelbase was 10 feet 5 inches but the military versions were supplied as 9 feet or 12 feet 11 inches. From 1927 the civilian versions were shortened to 9 feet.
The chassis was also used for staff cars for the Indian Army.
Chassis numbers were in the 25xxx range. At least one Martel one man tank was built on thechassis.
The total number made is not known but over 50 ambulances were sold. There are no known survivors.
BODY STYLES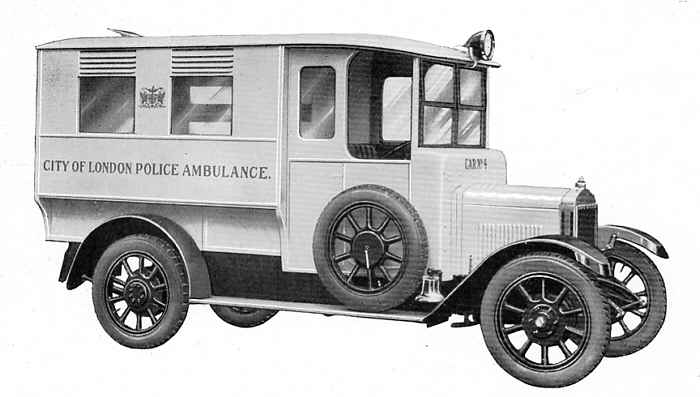 15/20 Motor Ambulance as shown in the Crossley brochure of 1926.
The body was ash framed with the interior paneled in mahogany faced plywood.
There was room for two stretchers in the rear.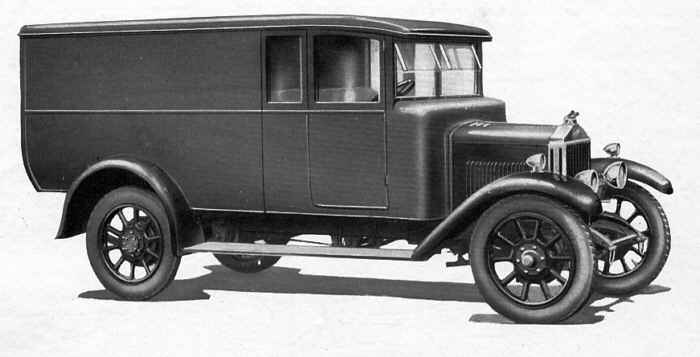 15hp 15/20 cwt van from the 1925 brochure.
The frame is described as of hardwood with plywood panels, coach painted and varnished.
The interior dimensions are 7 ft 2 in long, 5ft wide and 4 ft 2 in high.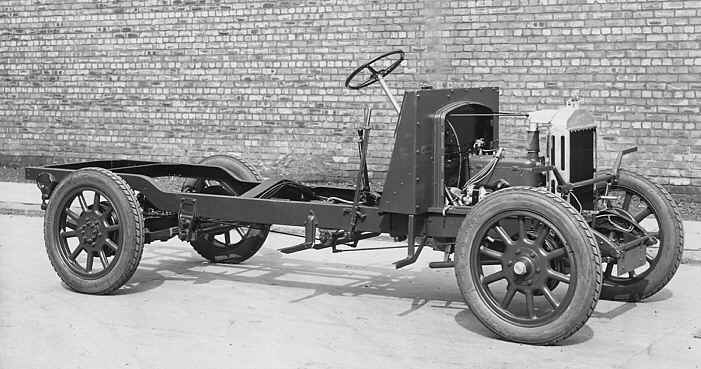 The chassis used on the commercial vehicles differs from that used on the cars especially at the rear.The engine bulkhead arrangements and the radiator are also changed. The gearbox is of the right hand change type.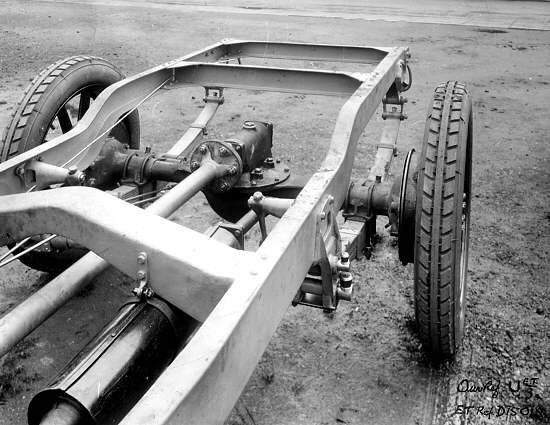 Here the worm drive rear axle can be seen and the substantial cross member.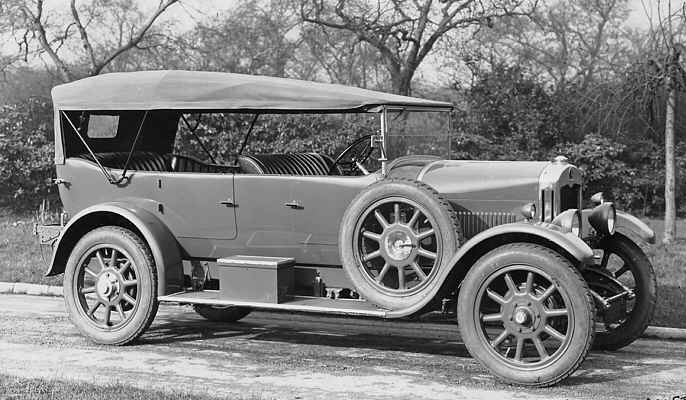 The staff car built on the 15/20 chassis. An unknown number of these were supplied to the Indian Army. Fold down occasional seats were fitted behind the front seat.
SPECIFICATION
Engine/gearbox/transmission
capacity
2388 cc
cylinders
monobloc
bore
3 1/8 inches (79.4 mm)
stroke
4 3/4 inches (120 mm)
compression ratio


RAC Horse Power
15.6
valves
side
ignition
Magneto
max power
32 bhp at 2400 rpm
fuel consumption (typical)



lubrication
pressure fed to main and big end bearings
max speed (approx)
not known
Gears
4 speed in unit with engine
van - 3.73:1, 2.32:1, 1.47:1, 1:1
ambulance - 5.83:1, 2.32:1, 1.47:1, 1:1

The Military version had a 4+2 gear box with high and low ratios giving 8 forward speeds.
Clutch
single dry plate
Drive Shaft

open shaft with fabric universal joints.

Rear axle
worm drive with worm on top
ratio - 6.5:1
Body/chassis
wheelbase
Civilian -
10 ft 5 in (3175 mm)
9 ft 0 in (2743 mm) from 1927

Military -
9 ft 0 in (2743 mm)
12 ft 11 in (3937 mm)
length
14 ft 7 1/8 in (4448 mm) - 19ft 5 in wheelbase models
width overall
5 feet 6 3/4 in(1695 mm)
track
4 ft 8 in (1422 mm)
weight


steering
Worm and complete wheel
suspension - front
half elliptic springs
suspension - rear
underslung half elliptic springs
brakes
4 wheel brakes with the front using the Perrot system. The hand brake operates on separate shoes on the rear axle.
wheels/tyres
Pressed steel artillery type. 32 x 4 1/2 inch tyres.