"the car they wanted" - The 25/30 or RFC
The company came out of the Great War in good financial shape. There was a controlled release of surplus 20/25 military vehicles onto the market and deliveries of the 25/30, that had been introduced towards the end of war, restarted to private buyers in February 1919 and continued until 1925. The car was slightly updated with a higher bonnet resulting in a smoother scuttle line to the windscreen. In view of its history it was often referred to as the RFC.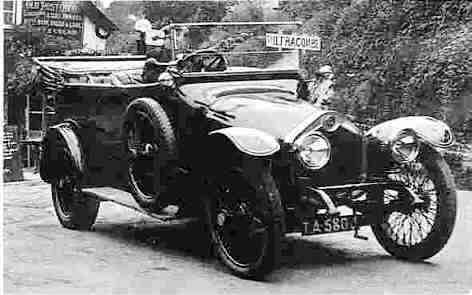 This car had royal patronage with examples being supplied to the King George V, the Prince of Wales, the Kings of Spain and Siam and Emperor Hirohito of Japan. Several 25/30's were used by the Prince of Wales for his tour of India from November 1921 to March 1922 and also for the tour of South Africa in 1925.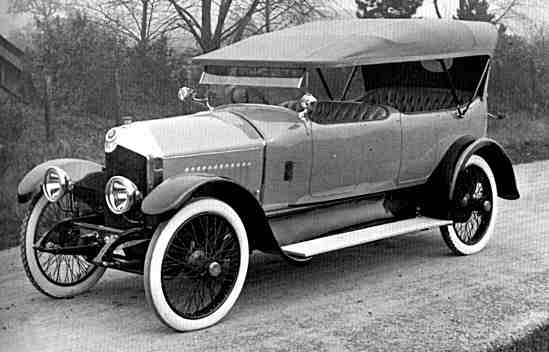 Two 25/30 chassis with truck type bodies were used by Major C Court Treatt and his party to become the first people to drive the length of Africa from the Cape to Cairo. The roofs of the vehicles were designed to come off and be converted into pontoons for crossing rivers. The journey took from September 1924 to December 1926.
To be closer to their London customers showrooms were opened in Conduit Street in the West End with an office in Berkeley Square and Sir William Letts, the managing director also maintained an office in Pall Mall.
"a high grade touring car" - the 19.6
The first new model for the decade came in 1920 with the 3.8 litre 19.6hp designed by TD Wishart who had taken over from Reeves and Wood and was to remain with Crossley until the end of car production. A new feature was a detachable cylinder head on the engine which like all previous models had 4 cylinders. The Motor in 1921 quoted a top gear range of 4 to 64 mph on their test and were very complimentary about its hill climbing abilities. "Light steering, easy gear-changing and comfortable seating" were also noted. In those days acceleration was not tested but fuel consumption was better than 20mpg. It cost £835 for the chassis on which the buyer could specify his own coachwork. Complete cars were also available in a wide range of styles as was usual in small production quality cars of the time. From 1923 4-wheel brakes were available as an option.
In 1922 one was supplied to the Prince of Wales.
The engine was also used in several variants including Kegresse half tracks and six-wheelers. One six-wheeler was supplied to King George V with a shooting brake body, the chassis is believed to have come from a Crossley commercial or military vehicle and another went to the coachbuilders Barkers who fitted a mobile hunting box body for the Nawab of Bahawalpur. The latter, which survives in Pakistan, was convertible to either sleeping accommodation or seating for twelve people. A six wheeler saloon car still using the 19.6 engine was displayed at the 1930 motor show.
Production of the 19.6 continued until 1926 during which time approximately 1150 were made. (Crossley car production records have been lost - all figures quoted here are estimates derived from known chassis numbers). Forty six of these cars are known to survive but some are incomplete.
"One of the best cars ever produced in England" - the 20/70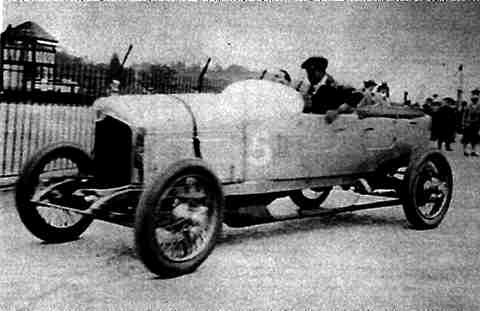 An important variant of the 19.6, announced in September 1922, was the 20/70 sports model that was guaranteed to be good for 75mph which is not bad going for a car weighing 28.5 cwt. The increased performance was achieved by increasing the compression ration from 4.8 to 5.2:1, fitting a high lift camshaft and special valves and a re-jetted carburetor. These modifications raised the power output from 53 bhp at 3000rpm to 76 bhp at 3200 rpm. Wire wheels for 820 x 120 tyres were usually fitted rather than the artillery type fitted to the 19.6. It was described by The Motor as "One of the best cars ever produced in England". Prices started at £845 for a two seater. From October 1923 4 wheel 15 inch brakes using the Perrot system were available.
Possibly as many as 100 were made but only one complete example now survives.
The racing driver Leon Cushman had two duck egg blue 20/70's which with works assistance won several races at Brooklands in 1924/5. He was timed to lap at over 100mph and held several records including the two-way kilometre at 103.42mph.
"the characteristics of the larger models in a more concentrated form" - the 14hp
The next new car marked a shift downwards in size with the 2.3 litre 12/14 (from 1925 known simply as the 14hp) model of 1923 which, at a length of 12' 11" (3.937 metres) , was 20 inches (50 cm) shorter than the 19.6.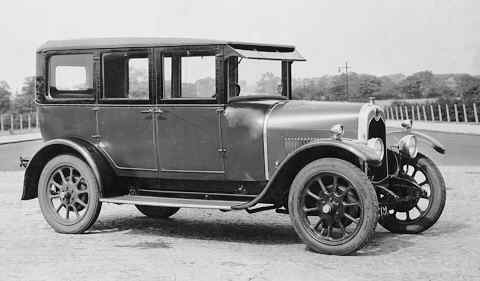 The 14hp designation is rather confusing and the reason for its use is not known as the actual RAC horsepower rating was 15.6 and the name was changed in 1925 to the 15/30 but only for "overseas" markets. It continued the modernising trend with in-unit engine and 3-speed gearbox and single-plate dry clutch. The Motor tested a saloon model in 1924 with the £15 optional front wheel brakes bringing the overall cost to £575. The very flexible top gear performance from "a crawl" to the unspecified maximum was commented on and it was noted that the gearbox was easy to use with double de-clutching only being required on rapid down changing. They did not however like the way the luggage rack at the rear stuck out even when folded.
From 1925 an updated version sometimes called the "new 14" appeared with four wheel brakes as standard as well as a 2 inch wider track brought about by modified axles. In 1926 The Autocar tested a tourer and were still impressed by top gear flexibility up to a maximum of 54 mph. Petrol consumption was 30mpg. No comment was made about the luggage carrier.
It proved a popular model, especially in Australia, with around 5600 being made. Production ceased in 1927.
There was also in 1923 a design for a 10hp car resembling a scaled down 14. It seems that only one or two were made and it is probable that they were never marketed. It is believed that a two-seat tourer version was given to one of the Crossley family daughters.
"comfortable and refined high speed travel - the 18/50 and 20.9
1925 saw a real departure with the first 6-cylinder overhead valve engined car, the 2.7 litre 18/50. This was a spacious, smooth running machine but at over 30 cwt rather heavy, so from 1927 was offered with an engine bored out to 3.2 litre and known by its RAC horsepower rating as the 20.9.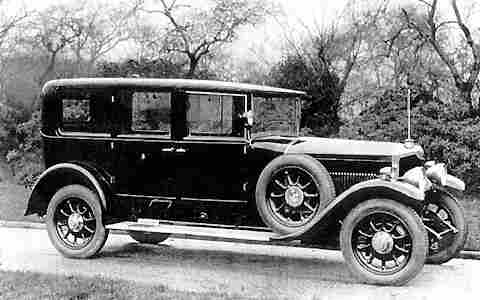 A fleet of seven 18/50's was used by the Duke and Duchess of York for the Royal Tour of New Zealand and a further 12 for that of Australia in 1927. These were a mix of touring cars and enclosed limousines, the ones to be used by the Duke (who later became King George VI) having red glasses in the side lights for identification purposes. The long wheelbase landaulette (chassis 40250) used by the Duke to open Parliament in Australia is now in the Australian National collection in Canberra but not always on public display.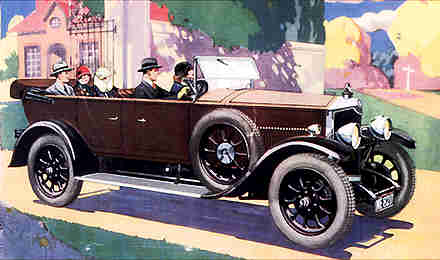 The production of 18/50 and 20.9 models together was about 1500 and the 20.9, later known as the Super Six, was in theory available right up to the end of Crossley car production in 1937.
Surviving 18/50's are rare with possibly no more than 8 left, the 20.9 is slightly more fortunate with 28 known.
"a car for the connoisseur" - the 15.7
In May 1928 Crossley introduced a lighter (26cwt) 6-cylinder model, the 1990cc 15.7hp which in spite of the smaller engine could still make an indicated 70mph but with an improved 25 mpg fuel consumption. The four-speed gearbox allowed a minimum in top gear of around 5 mph and maxima in third gear of 50 mph and second gear of 30 mph. These top speeds represent over 4200rpm, a lot for a road engine in those days, but are claimed in more than one road test. The saloon version cost £550.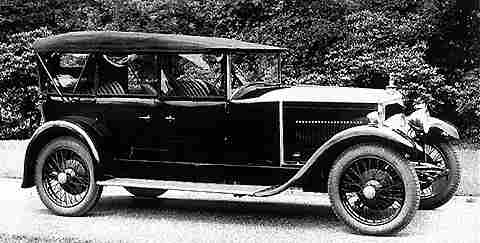 One of the body styles, the fabric saloon, re-introduced the Shelsey name from pre-war days.
At the 1930 Motor Show it was relaunched as the Silver model with modifications to the brakes, gearbox and engine. This version continued in production until 1934. About 1800 were made and 24 are known to survive including eleven in Australia and three in New Zealand
In 1928 a 2 litre sports model was produced which had all the lines of a classic British sports car of the era. It was built on the same 15.7 chassis but the engine had modified camshaft and induction to give 60+ bhp output as opposed to the standard 45bhp and the radiator was rounded and more Bentley like. It was capable of 77mph and 17.5 seconds from 0-50mph with a fuel consumption of 21 mpg. It cost £625 for the open tourer as against £550 for the 15.7 saloon model. Two cars were entered in the 1930 Monte Carlo Rally starting from John o'Groats. The best one came 6th of the starters from that point.
"a very, very pleasant little car" - the Crossley Bugatti
As well as their own cars Crossley also produced 25 type 23 Brescia Bugattis under licence. Crossley Motors owned the London sales operation of Charles Jarrott & Letts Ltd and in 1913 they became the British Empire's sole agency for Bugatti. At the 1921 London Motor it was announced that Crossley would commence manufacture of a British Bugatti. Parts for 25 cars were ordered and 24 were made, the remaining parts being retained for spares. In 1925 the agreement was terminated with no further cars made after the initial batch. Four restored cars and parts of two others survive.