CROSSLEY BUSES 1918-1939

The early buses and char-a-bancs
The earliest buses were not made by Crossley themselves. After the First World war the government sold off many thousands of surplus vehicles including many Crossleys. Being large vehicles they were eminently suitable for conversion and lots of them were converted to buses and charabancs. Because of the hard life they led few have survived. One can be seen in the film of Ryan's Daughter and, rather more unlikely, "A Fistful of Dynamite". This has a genuine chassis but the body is a replica copied from an original being used as a summer house in a Dublin garden.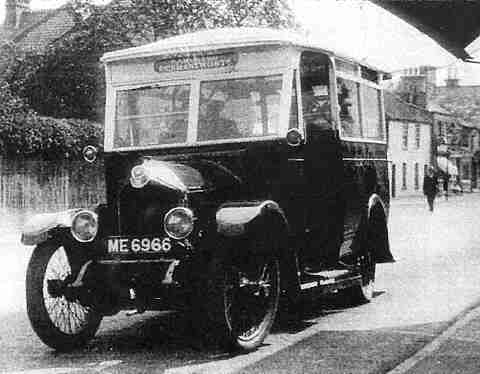 (F Higham collection)
A bus built on an early 1920's chassis (possibly from a 25/30 car) in operation between Uxbridge and Rickmansworth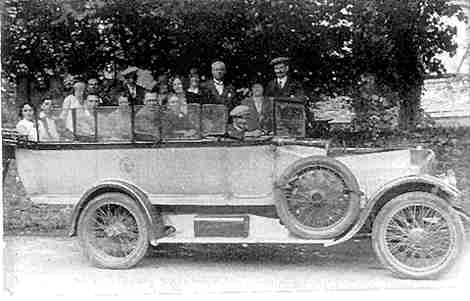 (John Warburton collection)
A well loaded charabanc on a 25/30 hp chassis
The Crossley Eagle
The decision, which involved major capital investment, for Crossley Motors themselves to go into full scale bus production came in 1926 with the first model, the single decker Eagle going on loan to Manchester Corporation in 1928. With a wheelbase of 16 feet 7.5 inches it had the 30/70 4 cylinder 5.3 litre petrol engine delivering 70 hp with, unusually for its time, an aluminium cylinder head. The Eagle was said to be good for 50mph at 10mpg. Eighty two were built including two double deckers and a solitary normal control version. Some were bodied by Crossley but others were supplied as chassis only, the bodies being supplied by a large number of coachbuilders as determined by the operators who included private and municipal undertakings.
The Crossley Hawk
In 1929 there arrived a smaller lighter version of the Eagle, the not very successful 26 seat Hawk, of which only about a dozen were made as it was expensive at £850 for the chassis. The overall length of the chassis was just under 24 feet and a four cylinder 30/70 engine was used developing 48bhp at 1000rpm. One survivor has recently been found, as usual converted to a shed, and is probably the oldest surviving Crossley bus.
The Crossley Arrow, Six or Alpha
The trend in the late 1920s was to 6 cylinder engines and in 1929 the Arrow appeared using the 38/110 engine in what was essentially an Eagle chassis with improved steering geometry. The engine used the same bore and stroke as the trusty 25/30 but a change was made to a monobloc casting from the old pair cast layout. Side valves were retained and the drive was through a mid mounted heavier version of the 4 speed gearbox. In the same year Crossley expanded into making complete buses with a delivery of a single decker to Manchester. The name had to be changed in 1930 when it was pointed out that Eagle was already owned by Dennis and for a while the bus was known simply as the "Six" but in 1930 it took the inconsistent name of Alpha which would logically belong to the lorry range. 135 were sold mainly between 1929 and 1932 but the last was not actually made until 1937.
The Crossley Condor
1930 saw the Condor double decker designed largely for the tram conversion market. The 38/110 engine was again used in a new chassis that retained the Eagle's wheelbase. In order to minimise the vehicle height the differential was moved to the off-side. 152 were sold with the majority having timber framed Crossley bodies. A Manchester Corporation Condor gained a lot of publicity by taking a group of delegates from the Municipal Tramways and Transport Association to a conference in Paris.
By the late 1920's consideration was being given by major bus operators to the use of diesel power and three Condors were fitted with Gardner 6L2 8.4 litre engines in 1930 and went as demonstrators to Leeds, Manchester and Sheffield Corporations. The Leeds bus was the first on the 27 September and so was probably the first diesel powered double decker in service in the world. The 6L2 was not an ideal choice as it was designed as a marine engine and was rather bulky and heavy but it proved the possibility of the use of diesels in buses.
With the company's links to Crossley Brothers there should have been a great opportunity to capture this new market. Gardner based in Patricroft to the west of Manchester was a rival of Crossley Brothers so it was always unlikely that their engines would be chosen but surprisingly Crossley Motors decided to develop their own diesel unaided by Crossley Brothers, a claim even stated in their marketing material. The new engine was designed to be physically the same size as the petrol equivalent, a requirement that seems to have had a military basis as their was hope of selling diesel powered transport to the War Department. A solitary IGL was actually produced but the logistics of supplying two types of fuel meant that the services stuck to petrol. The prototype of the new 6 cylinder diesel engine called the 45/85 was ready in late 1930 and three were fitted to Condor double deckers and went to Manchester, Rochdale and Aberdeen for trials. The engine used direct injection and was of 8.4 litre capacity. Presumably as a result of the trials a larger capacity was needed and the production engine, the 48/100, had the bore increased from 4 1/4 inches to 4 7/16 inches giving a capacity of 9120cc and 100bhp at 1800rpm. The engine always suffered from its requirement to fit in the petrol engine's space as this limited its bottom end size and the crankshaft and bearings had a reputation for failure but the writing was on the wall for petrol buses and no more were made by Crossley after 1932 apart from a solitary coach on a Delta truck chassis in 1935. Early diesel Condors could be distinguished from the petrol ones by a deeper radiator styled more like that used on the cars. This was introduced to give better cooling from 1931 but was fitted as a modification to earlier ones. The final petrol engined also changed to the new radiator.
Another development with the Condor was the use of the Wilson pre-selector gear box, offered from 1932 as an alternative to the normal 4 speed sliding mesh box.
The next engine development came in late 1932 when the 48/100 was fitted with a Ricardo "Comet" cylinder head and indirect injection. The engine name was changed to VR6 and retaining the 9120cc capacity was rated at 100bhp at 1700rpm. A 4 cylinder version, the VR4, was also made.
Total Condor production was 154 petrol, 3 Gardner diesel, 210 Crossley diesel and one six wheeler. The last one was made in 1934.
The Crossley Mancunian
Manchester had always been the major customer for the buses and in 1933 reacting to a new specification produced by the city a new chassis for both single and double deckers was designed. This was designated the Mancunian. The double decker had a wheelbase of 16 feet 7 1/2 inches and the single 17 feet 7 inches. Apart from the back axles the mechanical specification was the same. The VR6 engine was retained but now mounted in unit with the gear box. The gear change also moved to the left hand but a central accelerator pedal was surprisingly retained. To help reduce the bottom end problems of the VR6 a "short stroke" 8365cc version of the VR6 came out in 1935 with a slight reduction in peak power to 93.5bhp but this increased to 99bhp in 1938 with the improved "Comet III" Ricardo head. Interestingly, at the request of customers, some Mancunians were fitted with 6LW Gardner engines.
The majority of Mancunians had Crossley bodies and at first these used the traditional timber frames but in 1932 a metal framed Metro-Cammell body had been fitted to a Condor for Manchester. This performed well and Manchester decided to go over completely to metal framed bodies. Early experiment involved aluminium frames from Metropolitan -Vickers and steel tubed ones from Accles & Pollock but Manchester preferred the Metro-Cammel design and so an agreement was reached that they would supply frames to be completed and clad by Crossley at Gorton. Some were also used to rebody earlier buses in Manchester Corporation's fleet including, significantly Leylands. This was the first time Crossley had built bodies on other people's chassis and this was to grow to be significant work in the post-war period.
A redesigned modernised version of the Mancunian was introduced in 1935 with modernised curved bodywork and a much higher specification interior. It became known as the "Streamliner". Although many were built using Metro-Cammel frames, these were joined by English Electric.
A further update to the Mancunian happened in 1938 with improvements to the frame to give extra support to the rear platform and a gearbox with constant mesh introduced. Synchromesh prototypes were also successfully tried but did not go into production until after the war. Crossley also experimented with fully automatic transmission systems and prototypes were put in service but the war intervened and development was shelved.
Total production of Mancunians was 234 "Standard", 277 Streamliner and 2 Standard body on Streamliner chassis double deckers, and 25 Standard, 20 Streamliner and 1 Standard body on Streamliner chassis single deckers.
The Crossley TDD Trolley Buses
As well as operating bus fleets many towns and cities also had extensive tram and trolley bus networks. The first "railless trolley line" was opened in Britain in 1911 and by the 1920's these were seen by many as more flexible and cheaper then tramways. Early vehicles had been heavily built, rather like tramcars, with solid tyres but by the late twenties bus like vehicles were taking over. Crossley were late in the market but recruited the chief designer from Sunbeam and produced prototype 6 and 4 wheel double deckers with Metro-Cammell frames and Metropolitan-Vickers motors that went into service with Ashton under Lyne in 1936. Series production of 4 and 6 wheeled versions designated TDD4 and TDD6 started in 1937 with an order from Manchester for 38 complete vehicles and bodies for a further 38 Leyland chassis. Other customer were Belfast and Hull. Total production of TDD4's was 93 and TDD6's 17.
The twenty bought by Hull in 1938 remained in service until 1962 by which time they were the last pre-war Crossleys in use.

By the late 1930s military production was increasing rapidly and took precedence over civilian orders. Bus production, except for some trolley buses, virtually stopped in 1940. There were still 140 orders from Manchester waiting to be fulfilled.
© Malcolm Asquith 2007