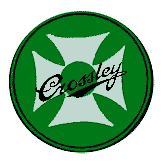 The Crossley "Golden" and "Super Six" cars
The Crossley Golden was introduced in 1931 and the Super Six in 1929 as a replacement for the 20.9 and continued until 1935. The main changes, introduced with the Golden, were a revised chassis (similar to the Silver) improved brakes and a central gear change. The radiator shell was updated and wire wheels replaced the artillery type used on the earlier cars.
Changes were made during production and the Autocar magazine noted that for 1933 the Golden would have "a slight variation in the contour of the saloon roof designed to smarten the appearance while the body height to the ground has been reduced two inches". The Super Six "has been improved by the use of discs for the wheelsd and the addition of bumpers fore and aft. A folding centre armrest has been introduced for the rear seat."
At the 1930 London Motor Show a prototype six wheeled limousine was shown. This used a 3440 cc version of the engine (the bore was enlarged to 78mm) with transmission and chassis based on the military/commercial vehicles. In 1929 a six wheel open car had been produced with bodywork by Barker as a special order for King George V who at the time was still recovering from illness but wished to resume shooting expeditions but this new vehicle was considerably more luxurious. It is not known if more than the prototype was made but production must have been intended as a brochure was produced.
The number made is estimated at 100. Chassis numbers range from 42101 to 42299.
Four Golden cars survive but no examples of the Super Six are known.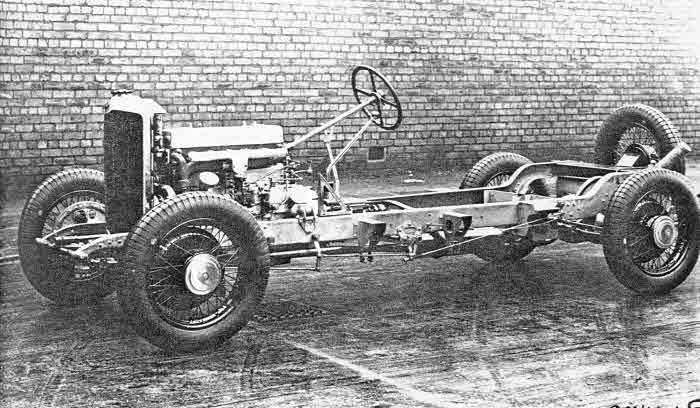 ---
BODY STYLES
Golden de-luxe saloon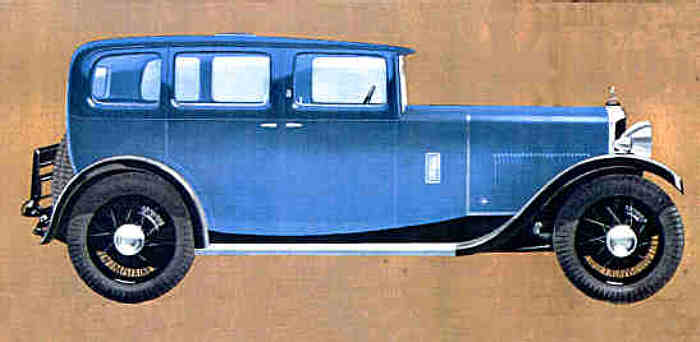 £ 575 (1934)
(sliding roof £10 extra)
Super Six Limousine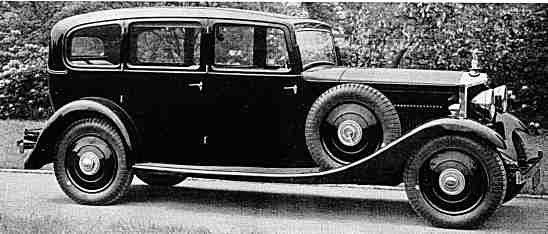 1934 model shown
£1050 (1929)
£875 (1934)
Super Six Landaulette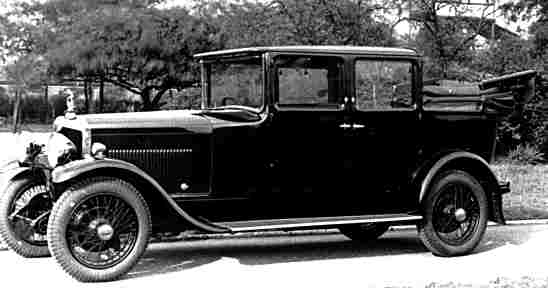 £875
Super Six Fabric Saloon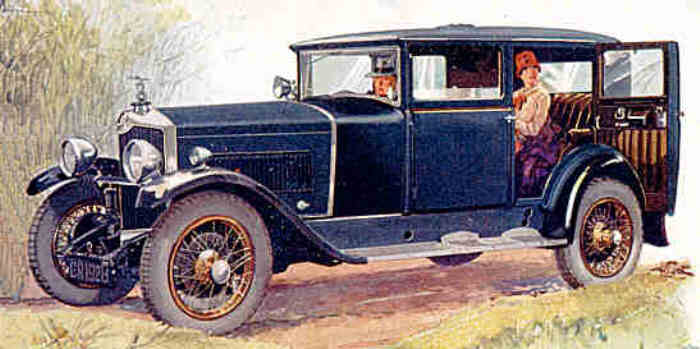 £795 (1930)
Price includes luggage trunk and wireless.
Six-wheeler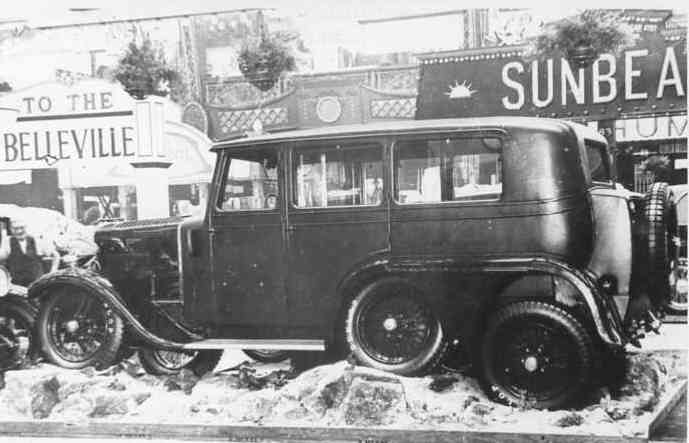 The six-wheel saloon at the 1930 London Motor Show.
---
The above are all Crossley factory bodies. Standard colours for the Golden were black with brown pigskin upholstery, blue with blue leather and maroon with maroon leather.
The prices quoted are from contemporary advertisements.
---
SPECIFICATION
3198cc
6 in-line. Monobloc
75mm
120mm
21
Stromberg
Overhead, pushrod operated
Pressure to the 4 main and 6 big end bearings.
Magneto
Super Six Fabric Saloon - 15.5 mpg (15.2 litres/100 km)
Super Six Fabric Saloon - 72mph (115 kph)
0-50mph 25 seconds (Super Six Fabric Saloon)
4 speed centre change.
"Twin-top" type with 3rd speed in constant mesh.
ratios 1:1, 1.4:1, 2.3:1, 3.7:1
(The first few Super Sixes were fitted with the 20.9 right hand change gearbox)
single plate
open shaft with metal joints
Semi floating axles with spiral bevel gears
ratio 4.75:1 (Golden)
4.25 (Super Six)
4.72:1 (Super Six limousine)
12 volt
Golden - 10 feet 3 inches (3124 mm)
Super Six limousine - 11 feet 5 inches (3480 mm)
Golden - 13 feet 9¾ inches (4210 mm)
Super Six Fabric Saloon - 15 feet 4 inches (4674 mm)
Super Six limousine - 16 feet 3 1/2 inches (4966 mm)
4 feet 8 inches (1422 mm)
5 feet 7 inches (1702 mm)
5 feet 10 inches (1778 mm) (Super Six Fabric Saloon)
1 ton 15 cwt (1780 kg) (Super Six Fabric Saloon)
Worm and complete wheel
Offset-semi elliptic springs
Offset semi-elliptic springs underslung
Hand and foot brake operate on all four wheels.
Rod operated
Bolt on wire wheels.
30 x 5.25 or 6.00 x 18 (Golden)
(Pressures - 29 psi front : 36 psi rear)
5.25 x 21 (Super Six)
33 x 6 (Super Six limousine)