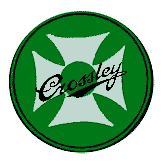 The Crossley "Dutch" buses
As part of post war reconstruction, Crossley supplied a large number of buses to the Netherlands Railways (Nederlandse Spoorwegen). They were built between 1946 and 1949.
The buses were made to three designs known in the factory as SD42/1 "Long Dutch", SD42/2 "Short Dutch" and PT 42/1 tractor units. The tractor/trailer type were the first to be delivered with the trailer chassis made by DAF with bodywork by Dutch companies Verheul, Werkspoor, Fokker and Aviolanda. The tractor unit was based on a shortened DD42/1 double deck bus chassis. SD42/1s had bodies made by a variety of companies to two basic centre door bus designs originating from Verheul and Werkspoor and a further sixteen had 37 seat coach bodies for KLM built by Verheul. SD42/2 bodies were of two types with the side door either just ahead of the rear axle or just behind the front axle. 150 were delivered with Crossley built bodies and the remainder divided between Verheul (252), Jongerius (2), Hoogeveen (10) and Lamboo (9).
The PT42/1 were first to go into use entering service in 1946, the SD42/1 followed from April 1947 and finally the SD42/2 from August 1947.
Production figures were -
SD42/1 (Long Dutch) - 500 with chassis numbers 96001 to 96500
SD42/2 (Short Dutch) - 425 with chassis numbers 96801 to 97225
PT42/1 Passenger Tractors - 250 with chassis numbers 96501 to 96750
The tractor/trailer units were phased out of public service in 1950/51 but many found other uses including mobile chapels. The last bus, a SD42/1 (96359) was withdrawn from service in the Netherlands in May 1965.
Several tractor units and 70 trailers were sold to East Germany and continued in public service until 1965 in Dresden and Leipzig after which some continued in non-passenger use until the late 1980s.
---
BODY STYLES

A PT42/1 and trailer in use by the WSM bus company.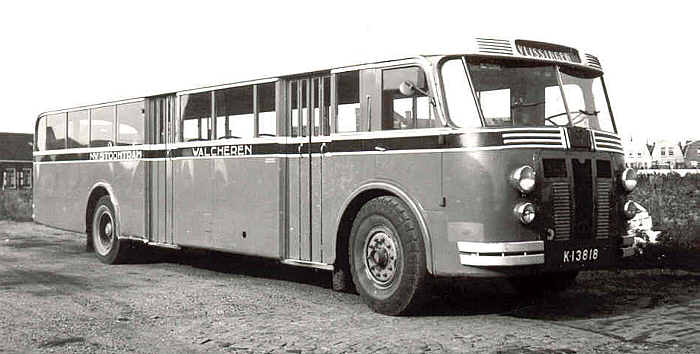 SD42/1 chassis number 96006 with body by De Schelde. It entered service in June 1947.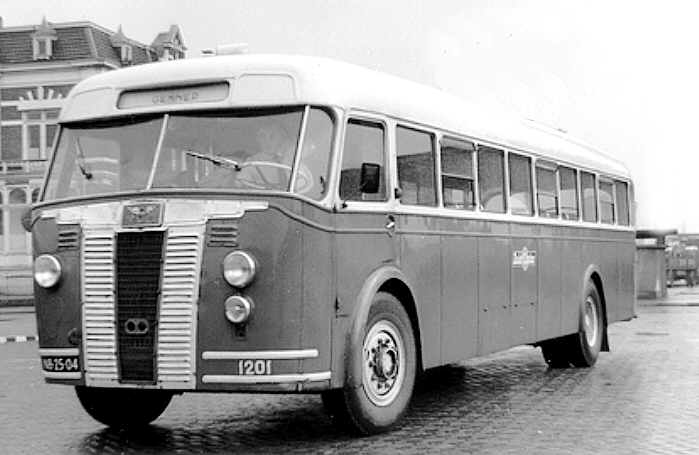 An SD42/1 with body by Dutch train building company Werkspoor.

The chassis number is 96002, fleet number 1201 and it entered service in May 1947.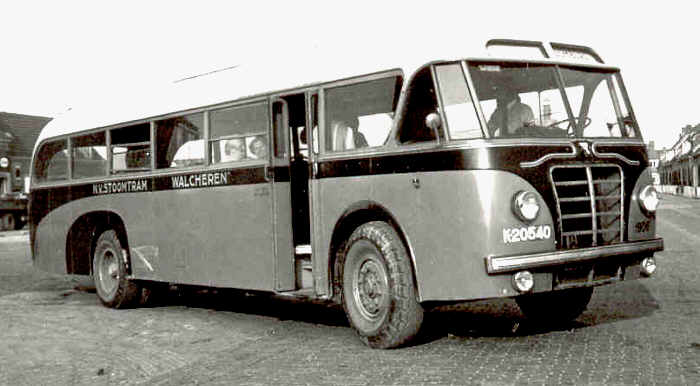 One of the two SD42/2s bodied by Jongerius.
The chassis number is 96897, fleet number 1906 and it entered service in March 1948.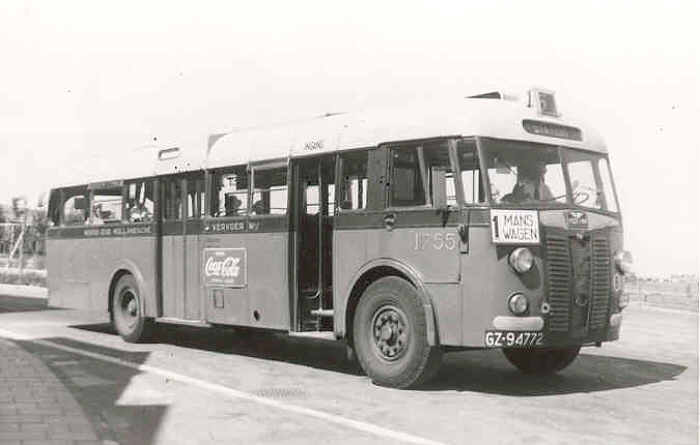 An SD42/2 with Crossley body. This bus has been converted to one man operation by the addition of a front door.
The chassis number is 97006, fleet number 1755 and it entered service in June 1948.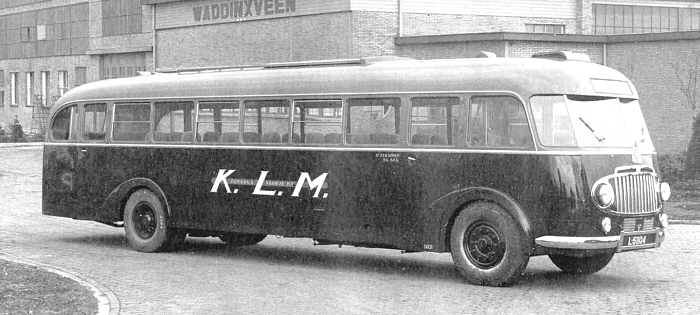 Sixteen of the SD42/1s were fitted with 37 seat coach bodies by Verheul and used as airport buses by KLM. They were given fleet numbers 1601-1616.
The trailers were designed for 80 passengers (52 seated, 28 standing), the Short Dutch (SD42/2) 42 seated passengers and the Long Dutch (SD 42/1) 46 seated passengers.
---
SPECIFICATION
The Crossley HOE7/2 engine was used on the tractors, the HOE7/3 on the SD42/2 and the HOE9 on the SD42/1. All engines used direct injection. The HOE9 was fitted with twin Roots type superchargers running at 1.7 times engine speed and with maximum boost of 8.3 pounds per square inch. All engines were fitted with cross flow cylinder heads.
8600 cc
6 cylinder monobloc
4½ inches (114.3 mm) )
5½ inches (139.7 mm)
15.5:1 normal
14:1 supercharged
48.6
direct using CAV pump
overhead
100 bhp at 1800 rpm un-supercharged
138-150 bhp at 1750 rpm supercharged (SD42/1)
Tractor/trailers - 60 kph
SD 42/1 - 100 kph
Tractors - 4 speed constant mesh straight tooth.tractors In unit with engine. Ratios 4.86:1, 3.0:1, 1.81:1 and 1:1
Buses - 5 speed constant mesh straight tooth. Separate from engine. Ratios 4.46:1, 2.47:1, 1.47:1, 1:1 and 0.656:1:1
16 inch single dry plate
Tractors- exposed shaft with two Hardy Spicer joints.
Buses - Clutch shaft with Hardy Spicer UJ and Layrub coupling. Prop shaft divided exposed shaft with two Hardy Spicer joints and Layrub coupling.
Fully floating with centrally located underslung worm final drive. 5.75:1 ratio, 5.2:1 on supercharged buses.
SD 42/1 - 20 ft 3½ inch (6.185 metres)
SD 42/2 -18 ft ½ inch (5.58 metres)
Tractor - 11 ft 0 inch (3.35 metres)
SD 42/1 - 35 ft ½ inch (10.8 metres)
SD 24/2 - 32 ft 11 ⅛ inch (10.0 metres)
Tractor - 17 ft 11½ inch (5.47 metres)
8 feet 0 inches (2.5 metres)
SD 42/1 ?
SD 42/2 - 5 tons 1 cwt (5130 kg) (chassis)
Tractor ?
Marles double roller, 6¼ turns lock to lock.
Reverse camber semi-elliptic springs.
Reverse camber semi-elliptic springs.
Buses - 16½ inch (420 mm) drums, 4 inches (100 mm) wide at front, 6 inches (150 mm) wide at rear. Westinghouse air pressure servo.
Tractor - vacuum servo.
Buses - 11.25 x 20 (front), 9.75 x 20 (twin rear)