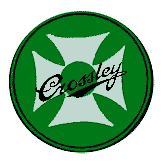 The Crossley "Regis" cars
The Crossley Regis was manufactured between 1935 and 1937. Approximately 1050 were made.
The engines were made by Coventry Climax but carried Crossley badging.
The Regis originated when the Scottish dealer Gordon C McAndrew wanted an updated "Ten" for his use and commissioned C F Beauvais of coachbuilders New Avon to design the body. This was fitted to a modified 10hp chassis. This design was adapted by Crossley to produce the Regis Saloon with the original Beauvais design offered as the Sports Saloon. Both versions were shown at the 1934 London Motor Show. The lower built Sports Saloon was the popular choice with very few of the standard saloons made.
The four and six cylinder models were launched simultaneously. The only external difference between the 4 and 6 cylinder models is the grille which has a cross hatch pattern on the 4 cylinder and vertical slats on the 6 cylinder models.
Chassis numbers range from 100001 to 101043 but there is some evidence that the early cars had numbers in the 10hp series of 10/xxxx. 100001 to 100100 were used for both four and six cylinder cars but for later manufacture 100101 to 100599 were used for the 10/4 with 100504 being the highest known number. 100601 onwards were for the 6 cylinder Regis 12 and 6. No cars in the 100901 to 100999 sequence are known so it might not have been used.
Further details of the Regis can be found on the website developed by long term Regis owner Peter Caunt at http://crossley-regis.org
---
BODY STYLES
Regis saloon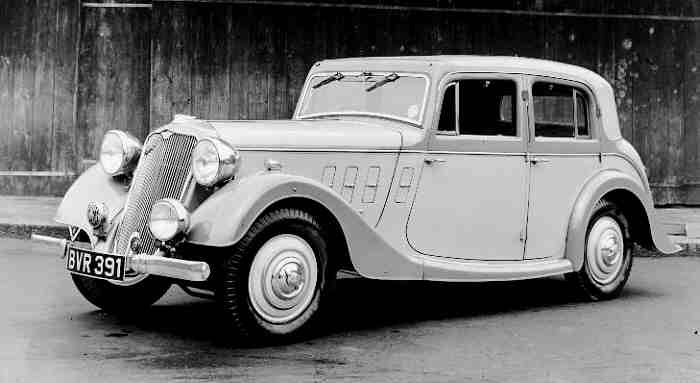 The illustration is of the six cylinder 12hp car.
This is the car supplied to the press for test purposes.
Externally the only difference between the four and six cylinder cars is the grille.
£335 (10hp) (1935-7)
£365 (12hp) (1935-7)
Standard saloon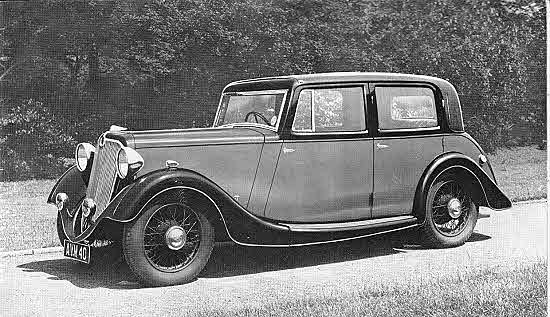 Standard saloon
£325 (10hp) (1935)
This style was probably only available in 1934 and was effectively superseded by the Sports Saloon. Compared with the Sports Saloon note the higher waist line, the different lower forward edge to the front wings and the taller, squarer windscreen.
The car was known at the time as simply the Regis but has retrospectively become known as the "Standard" or "Interim" Regis to distinguish it from the restyled version.
Very few of this model were sold and possibly two are known to survive.
Regis tourer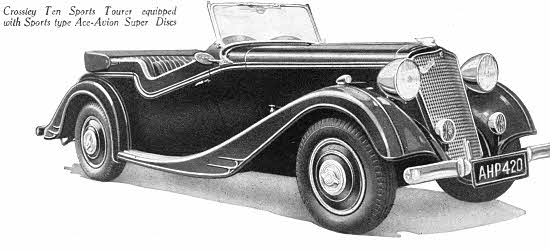 Photo - Brian Surcouf
The photograph is of one of the surviving cars with a 4-cylinder engine. It is doubtful if any 6-cylinder tourers were made.
£310 (1935)
£340 (12hp) (1935)
Regis Tickford bodied tourer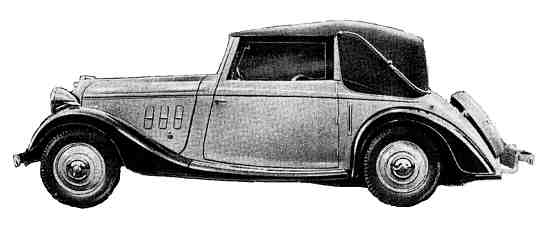 £365 (10hp) (1935)
£410 (12hp) (1935)
This design was sponsored by one of Crossley's agents, British and Colonial Motors Ltd., London WC2. The number made is not known and there are no known survivors.
Other body styles existed, especially on exported cars which were often supplied in chassis only form.
The prices quoted are from contemporary advertisements.
---
SPECIFICATION
4 cylinder - 1122cc (MC Type engine)

6 cylinder (12hp) - 1476cc (JM type engine) or
1640cc (JMC type engine)
4 or 6 in-line. Monobloc
4 cylinder - 63 mm

6 cylinder (12hp) - 59 mm (JM) 63 mm (JMC)
4 cylinder 90 mm
6 cylinder 90 mm
4 cylinder 6:1
6 cylinder 6.2:1
9.8 (MC)
12.95 (JM)
14.76(JMC)
Zenith
Overhead inlet, side exhaust operated by single camshaft
Pressure to main and big end bearings and camshaft
Coil
4 cylinder - 34bhp at 4500rpm
6 cylinder - 42bhp at 4500rpm (JM) or
48 bhp at 4500rpm (JMC)
4 cylinder 28-30 mpg
6 cylinder 21-25 mpg
4 cylinder - 65 mph (105 kph)
6 cylinder (12hp) - 75 mph (120 kph)
4 cylinder - 0-50mph (80 kph) in 30.9 sec
6 cylinder - 0-50mph (80 kph) in 25 sec
ENV type 75 4-speed preselector
ratios 1:1; 1.34:1; 2:1; 3.4:1
Newton centrifugal
Open shaft with metal Hardy Spicer type joints
spiral bevel
ratio 5.33:1
12 volt
9 feet 1/2 inch (2756 mm)
14 feet 11 inches (4546 mm)
4 feet 0 inches (1219 mm)
5 feet 3 inches (1600 mm)
saloon - 25 cwt (1270 kg) with two people or
22cwt (1120 kg) unladen
Burman-Douglas worm and nut
Offset-semi elliptic springs
Offset semi-elliptic springs
Bendix cable "single anchor" type. Foot and hand brake operating on all wheels.
Tyre size - 5.50 x 16
Pressure - 22 psi front : 28 psi rear