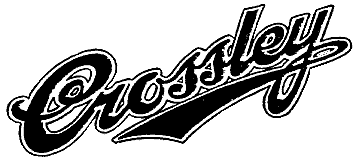 The Crossley "3 Litre" Sports Saloon
The Crossley 3 litre Sports Saloon was manufactured between 1934 and 1936. Approximately 10 were made. Chassis numbers range from 43001 to 43010. It used the same chassis and possibly sometimes the body of the 2 Litre Sports Saloon. One survives in Australia but not with its original body and there are rumours of another in a museum in Germany.
BODY STYLES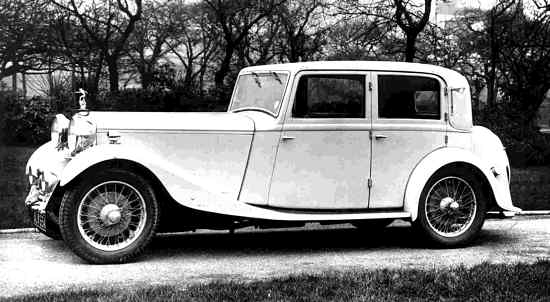 The standard saloon.
£ 795 (1936)
(The photograph is the one that appears in Crossley's own literature for the 3 litre but it is actually the 2 litre Sports Saloon prototype. It is not certain but there is no evidence that it was ever fitted with a 3 litre engine. )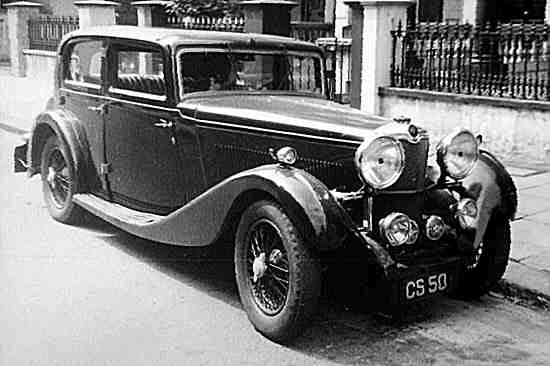 This is a genuine 3 litre probably with a body by coachbuilders Ranalah. There are reports that this car survived in the Cambridge area until the late 1960s.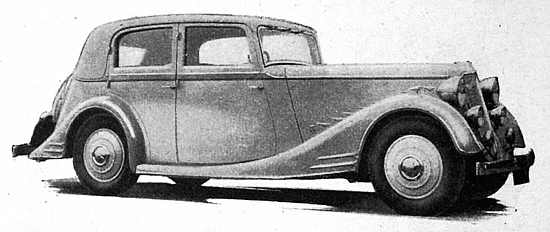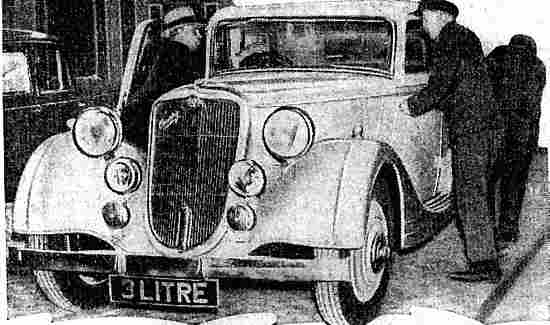 The later 3 litre. Both the earlier and this style appear to have been on offer in 1935. The bodywork is believed to be styled by C. F. Beauvais who had been with the coachbuilders Avon but in 1935 had joined Crossley.
£ 795 (1936)
(The lower picture shows the car being manoeuvred on the 1935 London Motor Show stand)
Some cars were supplied to Australia in chassis form to independent coach builders. One car is known to have been black with green leather interior.
The prices quoted are from contemporary advertisements. No independent test reports seem to have been done.
SPECIFICATION
Engine/gearbox/transmission
capacity
3198 cc
cylinders
6 monobloc
bore
75 mm
stroke
120 mm
compression ratio
6:1
RAC Horse Power
20.9
carburettor
single down draught with automatic choke.
valves
overhead operated by pushrod
lubrication
full pressure to crank, big ends and valves
ignition
coil
max power
64 bhp at 3000 rpm
fuel consumption (typical)
?? mpg
max speed (approx)
?? mph
Gears
ENV type 150 4 speed preselector
ratios 1:1, 1.46:1, 2.24:1, 3.9:1
Clutch
none
Drive shaft
open shaft
Rear axle
spiral bevel
ratio 3.75:1 or 3.9:1 (1936)
Body/chassis
wheelbase
10 feet 2 1/2 inches (3111 mm)
length
14 feet 2 inches (4318 mm)
track
4 feet 8 inches (1422 mm)
width overall
5 feet 7 inches (1702 mm)
weight
?? cwt
steering
Worm and lever
suspension - front
Offset semi elliptic springs. Hydraulic shock absorbers,
suspension -rear
Offset underslung semi elliptic springs. Hydraulic shock absorbers,
brakes
Foot and hand brake operating on all four wheels
wheels/tyres
Rudge Whitworth wire wheels.
Tyre size - 5.25 x 20 or 6 x 18